January 27, 2016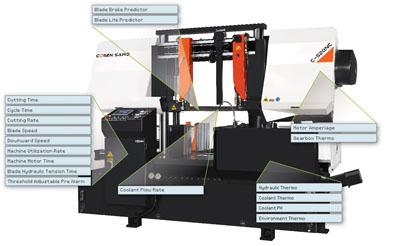 Cosen Saws USA, Charlotte, N.C., has introduced MechaLogix Cosen Predictive Computing, a cloud-based system that reportedly revolutionizes the category with an innovative feature that monitors the performance of a blade and can accurately forecast the number of remaining cutting hours left before a saw blade dulls and is no longer cutting with precision or a complete breakage.
"Know the unknown—now you can," said Joshua Sun, business development manager for Cosen Saws. "This completely changes the game for cloud based machine monitoring systems. Our customers have told us how important it is for them to minimize waste and scrap. Having a blade fail in the middle of a cut is one of the primary causes of waste and scrap and it negatively impact profits.
"With our technology, both operators and management will know the remaining useful life on a band saw blade," Sun added. "Gone are the days of tracking machine hours and accumulated cutting area. Now you have advance knowledge of the days and hours before a replacement saw blade is required. That's what MechaLogix Cosen Predictive Computing does."
MechaLogix also gives you real time performance data and can report issues like excessive vibration, overheating and changes in fluid line pressure. The root cause of an issue is reported in real time which equates to minimal down time and more efficient operations. The technology is intuitive and user customizable. Adjustable alert notification settings work seamlessly with the mobile app.
"We have been delighted with the enthusiastic response from our customers who have partnered with us during the course of the program," Sun said.
The comprehensive program includes:
Blade Life Assessment Monitoring and alert notification of a saw blade's remaining useful life. The technology will provide advance notice of required saw blade replacement.
Increased Machine Efficiency & Machine Life. The technology provides real-time analysis of individual components and overall machine health status. It can send notification of abnormal conditions from motors and bearings. It also alerts on frequent consumable items like hydraulic and cutting fluid.
Increased Operational Efficiency. The technology can provide production reports to aid in identifying best practices and training needs. The advanced monitoring and notification system alerts the operation when machine maintenance is needed, which aids efficiency in the scheduling of planned events.
Related Glossary Terms
bandsaw blade ( band)


bandsaw blade ( band)

Endless band, normally with serrated teeth, that serves as the cutting tool for cutoff or contour band machines.

cutting fluid


cutting fluid

Liquid used to improve workpiece machinability, enhance tool life, flush out chips and machining debris, and cool the workpiece and tool. Three basic types are: straight oils; soluble oils, which emulsify in water; and synthetic fluids, which are water-based chemical solutions having no oil. See coolant; semisynthetic cutting fluid; soluble-oil cutting fluid; synthetic cutting fluid.

sawing machine ( saw)


sawing machine ( saw)

Machine designed to use a serrated-tooth blade to cut metal or other material. Comes in a wide variety of styles but takes one of four basic forms: hacksaw (a simple, rugged machine that uses a reciprocating motion to part metal or other material); cold or circular saw (powers a circular blade that cuts structural materials); bandsaw (runs an endless band; the two basic types are cutoff and contour band machines, which cut intricate contours and shapes); and abrasive cutoff saw (similar in appearance to the cold saw, but uses an abrasive disc that rotates at high speeds rather than a blade with serrated teeth).