August 01, 2014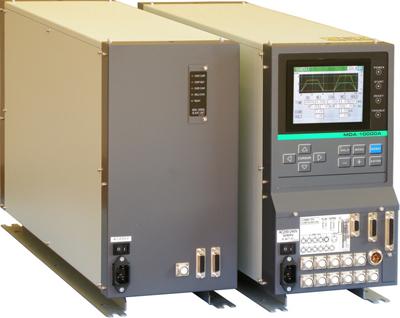 Miyachi America Corp. announces the availability of the Miyachi MDA-10000A ultrafast, high-current linear DC weld control, which can operate in constant current mode, constant voltage mode or both. Particularly well suited to series welding applications, the MDA-10000A is ideal for welding optical sensor parts, crystal oscillators and projection welding of electronic components, according to the company.
Connect multiple power supplies to achieve high power welding in a short time frame. Up to twelve MDA-10000A power supplies can be connected in a slave/master configuration to design just the right system for high power/short process welding. One master unit controls all connected units, eliminating the need to set separate weld schedules. The unit features controls to collectively stabilize current from all connected units.
MDA-10000A is equipped with three control modes: constant current, constant voltage or both. The constant current mode applies constant current to a workpiece regardless of the resistance, ensuring stable welding. Constant voltage mode stabilizes voltage from the beginning of the welding, reducing weld splash. And if both constant current and constant voltage are selected, constant voltage eliminates weld splash in the initial weld phase and constant current follows up to support stable welding. Control timing can be precisely set up to support specific application needs.