June 01, 2010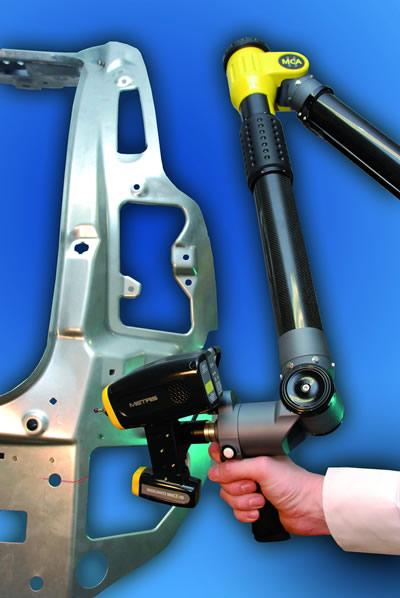 Nikon Metrology recently introduced the MCA II range of articulated arms with a measurement volume between 1.8m and 3.6m diameter. Equipped with the brand new ModelMakermmDx, the MCA II is an ultra-modern and accurate handheld scanning combination that is said to handle every inspection task, regardless of specimen size, material and location.
Driven by a growing market demand for faster and more detailed inspection, articulated measuring arms are increasingly equipped with laser scanners to realize a digital inspection process. The concept of digitizing samples up-front and running inspection on the digital copies of the samples offers distinct flexibility and automation benefits. Powerful handheld measuring solutions—combining an MCA II with a digital ModelMaker laser scanner—offer a broader application scope, better ergonomics and unparalleled productivity.
MCA II incorporates premium Heidenhain rotary encoder technology. MCA II 6-axis 1.8m articulated arms realize 16µm in a volumetric length accuracy test, which determines length measurement accuracy of the arm across its entire workspace. Subjected to the same test, Nikon Metrology's MCA II 1.8m 7-axis metrology series achieves 25µm accuracy, ideal to complement the high-precision ModelMakermmDx.
Related Glossary Terms
metrology


metrology

Science of measurement; the principles on which precision machining, quality control and inspection are based. See precision machining, measurement.