June 01, 2015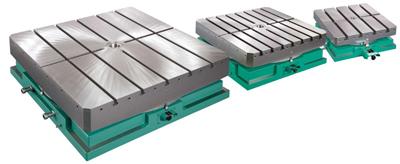 The "MBT" series of manual indexing tables from Indexing Technologies Inc. incorporate a precision Hirth coupling (face gear) for optimal positioning accuracy, repeatability and rigidity. Offered with either 360 teeth for 1° indexing or 72 teeth for 5° spacing, all within a radial accuracy of +/-2 seconds of arc.
Available in 10 different frame sizes, with tables ranging from 18" to 118" square or rectangular, all prepared with precision "T" slots ~ alignment slots, plus a center "pilot" bore for rapid and precise fixture locating.
The "MBT" series of pneumatic Manual Indexing Tables are completely self contained and are supplied with removable lifting bars which enable them to be easily moved on and off a machine or between different machines as needed.
With a load capacity of up to 50,000 lbs. there's a model suitable for most applications on horizontal boring mills, machining centers, milling and grinding machines, or grinding and gear cutting machinery.
*Note: Many users leave the piece part and fixture on the table and move the entire assembly through a variety of machines and operations to reduce valuable setup time.