August 12, 2021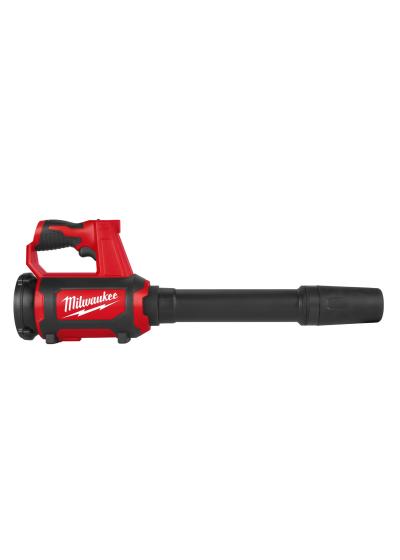 MILWAUKEE, WI— Milwaukee continues to expand their lineup of jobsite cleanup solutions with the M12™ Compact Spot Blower. Delivering more control and faster clean-up, the new compact blower significantly reduces time spent cleaning up after applications. It is ideal for jobsite debris removal and workbench cleanup. The 2-speed electronic switch and variable speed trigger allow users to optimize speed and control, while its compact size provides better access and maneuverability in tight spaces.
The M12™ Compact Spot Blower features a compact axial-fan design, providing the best combination of power and run-time with 175 CFM and 110 MPH of air speed. It includes two nozzles – a rubber nozzle to remove debris from hard-to-reach spaces and a wide sweeping nozzle to efficiently clear debris in more open spaces. For ease of use, a cruise control lock eliminates user fatigue. When equipped with an M12™ REDLITHIUM™ XC6.0 Battery, the blower can run up to 15 minutes at high-speed.
The new M12™ Compact Spot Blower joins the M12™ Cordless System, the largest sub-compact system on the market, focused on delivering industry-leading durability and power in the tightest spaces. Currently the M12™ System is made up of more than 100 solutions.
Specifications:
M12™ Compact Spot Blower (0852-20)
Voltage: 12
Air Speed (MPH): 110
Air Volume (CFM): 175
Weight (lbs): 3.3
Warranty: 5
Includes: M12™ Compact Spot Blower, Extension Nozzle, Rubber Nozzle, & Wide Sweeping Nozzle
Related Glossary Terms
fatigue


fatigue

Phenomenon leading to fracture under repeated or fluctuating stresses having a maximum value less than the tensile strength of the material. Fatigue fractures are progressive, beginning as minute cracks that grow under the action of the fluctuating stress.