March 05, 2021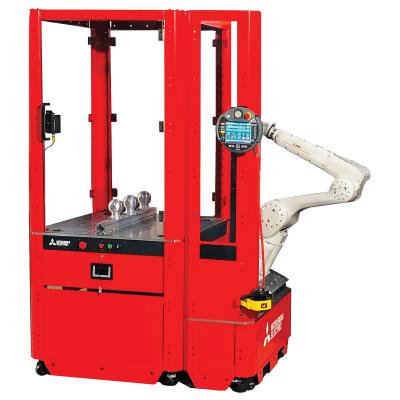 The LoadMate Plus Machine Tending Robotic Cell from Absolute Machine Tools partner Mitsubishi Electric Automation streamlines part loading, unloading and palletizing in low-to-high volume applications. It features portability, easy setup and programming, high performance, and a safety-first design that make it appropriate for both job shops and larger scale production environments.
Mitsubishi and Absolute jointly designed the plug-and-play cell. It consists of a Mitsubishi industrial robot, a wheeled stainless steel base, a clear polycarbonate cell enclosure featuring a safety door with an interlock switch, and a side table extension. The cell accommodates Mitsubishi 6-axis RV-series robots ranging in load capacity from 7 kg to 20 kg and reach up to 1,388mm. Integrating the robot cell with a CNC machine is a one-step process using a single Ethernet cable, Mitsubishi's Direct Robot Control function and the Mitsubishi M8 series control. The LoadMate Plus can also interface with other control types via remote I/O connectivity.
Built-in casters enable users to move the LoadMate cell from machine to machine. The cell enclosure is designed to handle heavy payloads and significant part momentum. Additional guarding and fencing may not be necessary when the cell is positioned correctly in tandem or in close proximity to the CNC machine. Depending on the application, the cell can be secured in position using built-in ratchet pads or an optional floor-mount latching system.
Courtney Ortner, chief marketing officer at Absolute Machine Tools, said, "The Mitsubishi LoadMate Plus cell provides a cost-effective, easy-to-implement automation solution for both beginners and manufacturers already familiar with automation systems."
Related Glossary Terms
computer numerical control ( CNC)


computer numerical control ( CNC)

Microprocessor-based controller dedicated to a machine tool that permits the creation or modification of parts. Programmed numerical control activates the machine's servos and spindle drives and controls the various machining operations. See DNC, direct numerical control; NC, numerical control.

industrial robot


industrial robot

Robot designed for industrial use. Primarily used as a material-handling device but also used for changing tools, assembling parts, and manipulating special tools and measuring devices. Depending on design, an industrial robot can be programmed to perform a task by means of a controller, or it can be "walked" through the required movements by utilizing a digitizing system that translates movements into commands that the robot can be "taught." See robot; teaching pendant.