July 31, 2018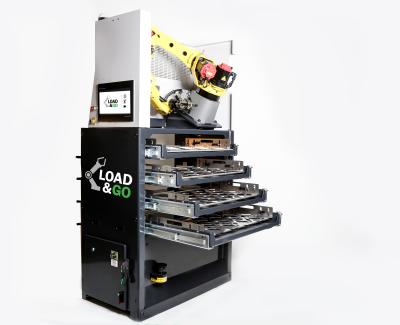 A new, free-standing robotic loading and unloading platform that makes automation affordable for any size CNC shop is available from Automation within Reach. Load & Go is simple to install and operate, using an intuitive, menu-driven HMI that eliminates the need for advanced programming skills.
Four parts drawers accommodate a wide range of round, square or rectangular part IDs and ODs for low-volume, high-mix production runs to provide the versatility needed to meet changing customer demands. A rotary table version is also available.
The ability to store part programs on board, the menu-driven HMI, and adjustable, universal part templates in the drawer version for quick part loading, enable complete changeovers in less than 10 minutes.
Because Load & Go is compact and self-contained, installation consists of simply locating the unit opposite the door of the CNC machine it tends, bolting it to the floor and connecting electrical power, air supply and Ethernet.
Affordably priced and easy-to-use, Load & Go enables CNC shops to automate labor-intensive loading and unloading with a minimal investment that will reduce cost-per-part and deliver fast ROI.
Related Glossary Terms
computer numerical control ( CNC)


computer numerical control ( CNC)

Microprocessor-based controller dedicated to a machine tool that permits the creation or modification of parts. Programmed numerical control activates the machine's servos and spindle drives and controls the various machining operations. See DNC, direct numerical control; NC, numerical control.