February 10, 2021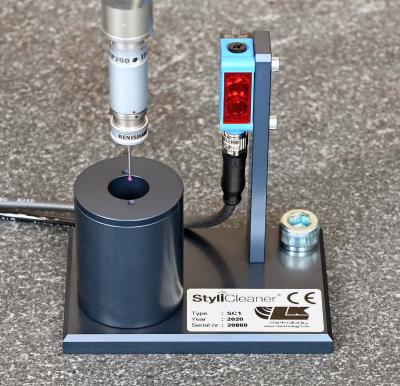 After detailed research into the effects of stylus tip contamination on metrology when using a coordinate measuring machine (CMM), Dr Simon Lawes, Manufacturing Metrology Team, University of Nottingham confirms: "A stylus tip contaminated with tiny particles can lead to measurement errors 10 times greater than the expected." The problem in inspection rooms and on the shopfloor is that stylus cleaning is a tedious and time-consuming job to do by hand and reduces the amount of time the CMM is available for measuring.
To alleviate the problem, UK-based CMM manufacturer LK Metrology has introduced an automated stylus tip cleaning system, LK StyliCleaner™. It takes just 30 seconds to remove debris from a stylus tip, eliminating the tendency to delay cleaning and reducing the risk of taking inaccurate measurements.
During touch probe measurement and particularly when scanning, contaminants such as dust, oil, coolant and oxides build up on the stylus tip. If good metrology is to be maintained, these tiny particles must be removed by frequent cleaning. Automating the process is significantly more efficient than manual cleaning, which typically requires recalibration of each probe position before use, so CMM uptime is maximised.
Being marketed to all CMM users worldwide, the cleaning system is an inexpensive solution and works with all brands of CMM and software. No software integration is needed, just a simple part program for controlling the cycle. For LK CAMIO® customers, the StyliCleaner is bundled with free-of-charge part programs for automated stylus tip cleaning.
Controlled by the axis movements of the CMM, the automated cleansing cycle is activated when a dirty stylus is programmed to move in front of the StyliCleaner motion sensor. Once inside the cleaning chamber, the stylus tip is washed for 10 seconds by detergent and dried for 10 seconds using compressed air to remove all contaminants. The part program moves the stylus through six positions to complete the process, leaving it clean and ready for the next inspection.
The compact StyliCleaner, which has a 70mm (2.8in) x 100mm (3.9in) footprint, is available in two sizes, StyliCleaner8 and StyliCleaner16, designed to decontaminate styli from 0 to 8mm (0.31in) and from 6mm (0.24in) to 16mm (0.62in) in diameter, respectively. The separate control unit may be positioned on the CMM table, or if space is limited it can be attached to the CMM stand using an optional mounting plate.
Related Glossary Terms
coolant


coolant

Fluid that reduces temperature buildup at the tool/workpiece interface during machining. Normally takes the form of a liquid such as soluble or chemical mixtures (semisynthetic, synthetic) but can be pressurized air or other gas. Because of water's ability to absorb great quantities of heat, it is widely used as a coolant and vehicle for various cutting compounds, with the water-to-compound ratio varying with the machining task. See cutting fluid; semisynthetic cutting fluid; soluble-oil cutting fluid; synthetic cutting fluid.

metrology


metrology

Science of measurement; the principles on which precision machining, quality control and inspection are based. See precision machining, measurement.