May 10,2018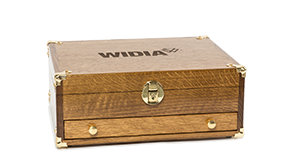 WIDIA has announced a special collaboration with H. Gerstner & Sons to bring two shop originals together in a limited-edition H. Gerstner & Sons tool chest. H. Gerstner & Sons has been recognized for more than 100 years as the manufacturer of iconic tool chests designed to store journeyman's tools and precision measuring tools. The boxes feature one of three famous cutting tool brands on the box lid:
WIDIA, the original company to apply the tungsten-carbide patent to cutting tools more than 90 years ago;
WIDIA Hanita, developer of the Varimillt, the original variable pitch endmill designed for titanium machining; or
WIDIA GTD, what some may know as Greenfield Tap & Die, the original American tap manufacturer with roots back to the 1850s, and developer of the Gun Tap, which features the spiral-flute tap design.
"In terms of quality, performance, materials, and workmanship, a Gerstner is in a class by itself. No other tool chest in the world has the reputation of a Gerstner. The idea to collaborate with iconic tool brands, which machinists have come to trust, due to their innovations, like WIDIA GTD, WIDIA Hanita, and WIDIA has been an exciting opportunity," states Scott Campbell, vice president of sales for H. Gerstner & Sons.
WIDIA has designed these commemorative boxes in the perfect size, and budget, for those seeking the protection of a high-quality Gerstner wood chest for storing precision measuring tools on workbenches and near the machines used by professional machinists and hobbyists. A Gerstner is built with carefully selected hardwoods and veneers that provide a moisture-free environment for the proper storage of your precision tools. Even after a lifetime of daily use, a Gerstner Chest often maintains a value equal to or greater than its original cost.
"Any craftsmen, machinist, or hobbyist will appreciate the quality, and the history that is built into these boxes with two iconic brands in the machine tool industry. They are real collectors' pieces, as well as functional shop items, which we are proud to have as a showcase for the WIDIA family of brands," Chris Merlin, director of portfolio commercialization.
Related Glossary Terms
endmill


endmill

Milling cutter held by its shank that cuts on its periphery and, if so configured, on its free end. Takes a variety of shapes (single- and double-end, roughing, ballnose and cup-end) and sizes (stub, medium, long and extra-long). Also comes with differing numbers of flutes.

pitch


pitch

1. On a saw blade, the number of teeth per inch. 2. In threading, the number of threads per inch.

tap


tap

Cylindrical tool that cuts internal threads and has flutes to remove chips and carry tapping fluid to the point of cut. Normally used on a drill press or tapping machine but also may be operated manually. See tapping.
Additional Products from WIDIA