July 20, 2018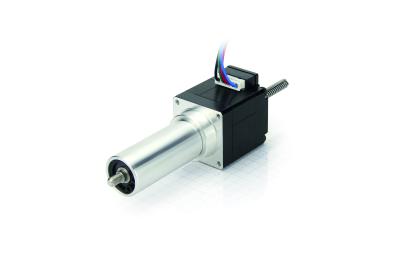 Nanotec offers captive linear actuators with short design in sizes NEMA 11 (28 mm) and NEMA 17 (42 mm). With the LGA28 and LGA42 series, the overall length of the guide is just 10 mm longer than the working stroke, therefore they are particularly suitable for use in small installation spaces.
The new linear actuators offer very low backlash, as well as high thrust and tensile force. Thanks to the integrated linear guide with movable polygon profile, high-precision feeding is possible without additional mechanical components. Both series can be ordered in various lengths, with different windings and optionally with encoder. The electrical connection is made using an integrated connector.
These linear actuators are ideally suited for applications demanding a combination of exact positioning, fast movement and long service life.
Related Glossary Terms
backlash


backlash

Reaction in dynamic motion systems where potential energy that was created while the object was in motion is released when the object stops. Release of this potential energy or inertia causes the device to quickly snap backward relative to the last direction of motion. Backlash can cause a system's final resting position to be different from what was intended and from where the control system intended to stop the device.