January 01, 2015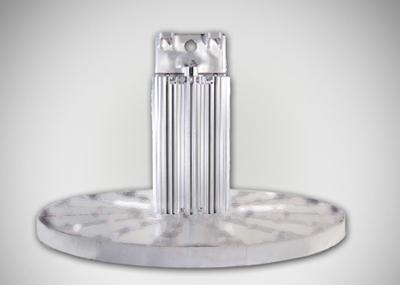 Dialight announced the launch of its high-output LED Vigilant High Bay 240V with CE Compliance. CE compliance allows European facilities the first truly, viable replacement for costly and inefficient 1,000W traditional HID high-output fixtures. Delivering 125 lumens per watt at less than half the power consumption of conventional HID products, the Vigilant high-output LED High Bay is a true innovation, offering approximately 60,000 lumen output from a single 480W Dialight-designed power supply, in a sleek, durable and lightweight package.
The Vigilant High Bay is designed to withstand high ceiling, high ambient temperature environments and is backed by Dialight's exclusive 10-year full-performance warranty covering the entire fixture, drivers and power supply. At just 18 inches tall and 24 inch diameter-and weighing less than 42 pounds, the Vigilant High Bay is significantly smaller and lighter than other available LED high-output fixtures on the market, for superior ease of installation.
Related Glossary Terms
fixture


fixture

Device, often made in-house, that holds a specific workpiece. See jig; modular fixturing.