September 04, 2020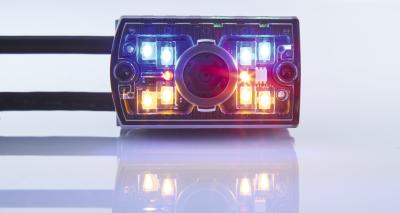 SICK expands its portfolio of image-based code readers with the launch of the Lector61x. The compact device detects 1D, 2D, and stacked codes for identification, inspection, or content monitoring in production processes.
The trend toward smaller batch sizes in manufacturing and production processes drove the development of this compact code reader that packs a punch in performance level. It enables manufacturers to maintain short throughput times, in spite of individualized products, and remain competitive in production.
The small and compact image-based code reader measures just 30mm x 40mm x 50mm and supplements SICK's Lector series of code readers for detecting 1D, 2D, and stacked codes. It can be used primarily for the intralogistics, automotive, consumer goods, and electronics and solar markets.
The Lector61x works well to trace components, especially in the sensitive and miniaturized electronics and solar industry for identification of electronic components, devices, and printed circuit boards. In addition, for the consumer goods industry, it can be effective for date code inspection, serialization, and package content monitoring.
With the powerful DPM decoder, the new Lector61x reliably reads DPM codes with low contrast or distortion. It also has integrated special optics with magnifying effect, making it even suitable for reading the smallest microcodes with up to 0.02 mm cell size with 1D codes and 0.04 mm cell size with 2D codes. In addition, the all-in-one lighting concept with adjustable lighting color helps it master different surface colors and textures.
With its compact housing with conducted plug unit, it can be optimally installed into production lines with limited space. The snap-in bracket enables fast and inexpensive installation. Additional optics accessories, such as the polarizing filter, can be easily attached without additional tools. The integrated position sensor also saves time and effort when aligning the Lector61x.
The Lector61x is characterized by excellent read properties for very small codes, poor code quality, and short reading distances. The Lector61x can even read codes that are not visible to the human eye. Using a clever decoder algorithm, its high-performance DPM decoder can read lasered or dot-peened codes perfectly – even in the case of low contrast levels, contamination, or poor code quality.
The flexible lighting concept with eight LEDs and two colors can be controlled and enables reliable code identification, regardless of the surface or code color. The new infinitely-adjustable focus setting with distance LED and LED aiming device enables quick and easy commissioning.