June 04, 2022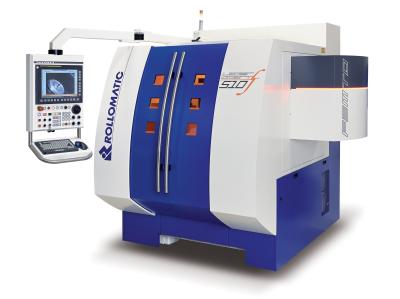 Rollomatic maintains its leadership position in the field of laser cutting ultra-hard materials by announcing the launch of a femto-second laser cutting machine for PCD (polycrystalline diamond) and other ultra- hard materials.
The LaserSmart®510 Femto with its innovative and powerful femto-second laser source provides unlimited machining possibilities. This laser source has a femto-second pulse width which is 1,000 shorter than a pico laser. It is built on the success of the Rollomatic LaserSmart® series of machines. This revolutionary process allows users to achieve the results that set new standards in ultra-hard material machining.
Rollomatic LaserSmart®510 Femto laser cutting machine
This new LaserSmart® model is the world's only femto-second laser cutting machine for PCD and other ultra-hard materials.
Never seen before in the cutting tool industry.

Achieves surface finishes as low as Ra 40 nanometers.

Produces crisper and sharper cutting edges compared to conventional laser machines.

Specifically improves finishes on 3D machining of drills and endmills.

30% faster feedrates compared to conventional laser machines.

The pulse width on a femto-second laser is 1,000 times faster than a pico lasers.

3D machining, profile cutting, cylindrical margins, chip breakers, fluting and more.

Also suitable for ceramics, carbide, sapphire, glass or other ultra-hard materials.

The machine adapts the machining process automatically to the type of material.
Related Glossary Terms
ceramics


ceramics

Cutting tool materials based on aluminum oxide and silicon nitride. Ceramic tools can withstand higher cutting speeds than cemented carbide tools when machining hardened steels, cast irons and high-temperature alloys.

fluting


fluting

Cutting straight or spiral grooves in drills, endmills, reamers and taps to improve cutting action and remove chips.

polycrystalline diamond ( PCD)


polycrystalline diamond ( PCD)

Cutting tool material consisting of natural or synthetic diamond crystals bonded together under high pressure at elevated temperatures. PCD is available as a tip brazed to a carbide insert carrier. Used for machining nonferrous alloys and nonmetallic materials at high cutting speeds.
Additional Products from Rollomatic