September 17, 2018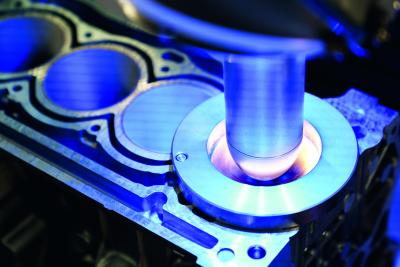 Technology capable of thermally coating cylinder bores is a highly sought-after solution. High-performance roughening is required to produce a reliable bond between the layer and substrate, ensuring all aspects of functionality. A positive interlocking connection is achieved by undercutting and the complete filling of the profile's roughness; microscopically and evenly sprayed materials are crucial requirements for layer adhesion.
The purpose of laser roughening is a micro-positive interlocking connection across the entire surface, enabling a high level of adhesive strength, resulting in an appropriate and robust layer in all directions.
Blast parameters and process kinematics allow roughening topographies for both spiral profiled grooves or enclosed cavities. When energy enriched beams of light identify the material, the energy is absorbed locally and converted into heat. When the appropriate parameters are selected, formation of the profile roughness is ideally matched to the function, for both aluminum and cast iron materials.
Operating costs are relatively low, due to the lack of mechanical machining typically associated with high tooling costs. Additionally, laser roughening delivers substantial material cost savings, due to the high levels of adhesive strength achieved with low roughness.
The compact design of laser spindles allows for two identical cylinder bores to be machined simultaneously. The hollow-shaft motor and stationary submersed optical system enables operation, virtually without vibration.
An industrial-based sensor is used to monitor the process, particularly during the setup stage. The optical equipment for the fully automated roughening module, with an optimized footprint, includes an extraction system and coolant device for the laser beam and spindle sources.
The company's years of expertise in engine-based technologies, including a variety of performance categories, demonstrates laser roughening's innovative and cost-effectiveness for today's manufacturing processes. Laser roughening is applicable for pretreating all conventional thermal coating processes.
Gehring has extensive expertise across all areas of the "laser roughening, coating and honing" process chains. The synchronized process steps result in reduced friction and wear-resistant cylinder surfaces.
Related Glossary Terms
coolant


coolant

Fluid that reduces temperature buildup at the tool/workpiece interface during machining. Normally takes the form of a liquid such as soluble or chemical mixtures (semisynthetic, synthetic) but can be pressurized air or other gas. Because of water's ability to absorb great quantities of heat, it is widely used as a coolant and vehicle for various cutting compounds, with the water-to-compound ratio varying with the machining task. See cutting fluid; semisynthetic cutting fluid; soluble-oil cutting fluid; synthetic cutting fluid.