August 23, 2022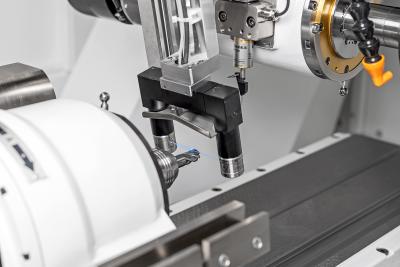 WALTER, a brand of UNITED GRINDING, introduces Laser Contour Check, a new and innovative non-contact option to tactile measurement in tool grinding and eroding machines.
The new blue laser, paired with an intelligent measuring system, provides high-precision measurement of various tool parameters on cylindrical tools with diameters from one to 52 mm. Since it does not contact the surface, the Laser Contour Check avoids possible damage to cutting edges or measuring errors that can occur due to wear on the probe tip during tactile measurements.
Measurements are made directly in the analog laser beam on the entire tool contour, not just at specific points as with the tactile or digital measuring method. Deviations can thus be compensated for directly in the process. A short measuring time, including cleaning of approximately 16 seconds (depending on the tool type) for diameter measurement, ensures increased productivity.
Optimized program sequences for cleaning and compensation can be programmed and adapted by the operator. The measuring system is integrated directly into the working area of the machine and moves into position when required. The blue laser beam used offers improved accuracy compared to the conventional red laser, as blue lasers have a shorter wavelength, thus reducing diffraction effects and optimizing the laser beam geometry.
Related Glossary Terms
grinding


grinding

Machining operation in which material is removed from the workpiece by a powered abrasive wheel, stone, belt, paste, sheet, compound, slurry, etc. Takes various forms: surface grinding (creates flat and/or squared surfaces); cylindrical grinding (for external cylindrical and tapered shapes, fillets, undercuts, etc.); centerless grinding; chamfering; thread and form grinding; tool and cutter grinding; offhand grinding; lapping and polishing (grinding with extremely fine grits to create ultrasmooth surfaces); honing; and disc grinding.