September 28,2020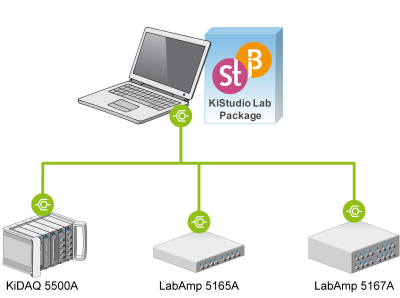 Kistler already offers a measurement ecosystem for a varied range of assignments, and its name is KiDAQ: a complete measuring chain from one single source – from sensor to cloud – for over 20 measurands. And now, the two laboratory charge amplifiers (LabAmp 5167A and 5165A) are integrated into this environment to give users added comfort when performing complex measurement tasks.
Many laboratory tests in diverse application areas require a combination of complex measuring instruments such as multi-component sensors, dynamometers and accelerometers. The number of channels that need to be used can easily run into three digits: this is the case, for example, with environmental and structural tests in spaceflight technology. Complex scenarios are equally frequent when measuring the cutting forces on machine tools and the related environmental parameters, or in the shipbuilding industry.
A combination that delivers maximum signal quality
Kistler offers two laboratory charge amplifiers – LabAmp 5167A and 5165A – that combine high signal quality with exceptional flexibility, state-of-the-art operability and excellent connectivity. Low noise, a broad measuring range and wide-ranging filter options open up virtually unlimited possibilities for measurements. Also, multiple LabAmp devices can be combined with one another: for example, measurement values from dynamometers can be evaluated in correlation with those from accelerometers.
LabAmp 5165A
High-quality signal conditioning and data acquisition for PE sensors, IEPE and voltage – all in one device
Acquisition of dynamic processes such as vibration, acceleration and pressure
One-channel and four-channel versions
Inputs: charge, voltage, IEPE
24-bit digital conversion with up to 200 ksps per channel
End-to-end digital signal conditioning with minimal latency
LabAmp 5167A
High-quality signal conditioning and data acquisition for piezoelectric (PE) sensors – all in one device
Acquisition of quasistatic forces and reaction torques, also dynamic signals
Four or eight channels
Input: charge
24-bit digital conversion with up to 100 ksps per channel
End-to-end digital signal conditioning with minimal latency
Both the Kistler LabAmps can now be operated with KiStudio Lab, the comprehensive DAQ software – making it much easier for users to set up the entire measuring chain and even operate it in the cloud. In the new version 4.0 of KiStudio Lab, tab navigation has been added to the user interface: this gives users greater clarity so they can keep track of the overall picture, even when large numbers of measuring systems and channels are connected. Step-by-step user guidance for setup ensures efficiency throughout the procedure.
Synchronous, efficient evaluation of distributed measurement setups
These advances open up possibilities for Kistler's customers to implement measurement setups of virtually unlimited complexity with coordinated technology from one single source. Of course, both LabAmp 5165A and 5167A can be combined with the existing KiDAQ system for different measurands. In this case, efficient networking and automatic synchronization are handled by KiConnect: developed by Kistler on the basis of TCP/IP, this technology links various measuring instruments to create a logical setup – no matter whether they are positioned next to one another or distributed at many locations across the globe.
PTP (Precision Time Protocol) ensures precise synchronization, so time differences are reduced to less than one microsecond for local networks. All data is stored either locally (on a PC), centrally (in a data center) or in the cloud, and it can be examined in detail with the KiStudio Lab software – even while measurements are in progress, thanks to live analyses and graphs. Openness was given special priority when this system was being developed: both hardware and software products from third-party manufacturers can be integrated and combined to create a complete solution.
Get even more out of measurement data – with jBEAM
The KiStudio Lab 4.0 software package also includes the jBEAM post-processing software, giving customers access to wide-ranging analysis and visualization functions. Thanks to jBEAM, data can be imported into countless file formats, with graphic visualization and evaluation using a variety of algorithms and processes. Users can also integrate their own formulas.