September 26, 2023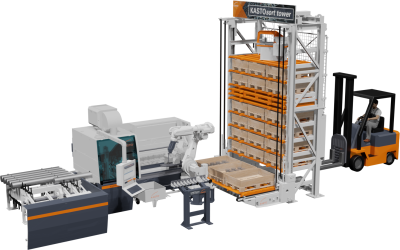 Automating sawing and storage processes with a hall that is already full? For metalworking companies, this has been a pipe dream. KASTO took on the problem. The solution: a space-saving, fully automated system for processing, including sorting that works 24/7.
Sawing, storage - and now a whole lot more: KASTO tops its own motto with the idea of enabling its customers to automate in the tightest of spaces. "This concept is a world first for unstaffed processing," says Sönke Krebber, board member at the sawing and storage specialists from Achern. "Up until now, the saw storage system has just fed the bar stock for processing. Now, the saw can feed the storage system," explains Krebber. The sawn parts are then stocked on the other side of the process in the new system.
The new KASTOsort tower will appeal to, for instance, metalworking companies who already use a high-performance saw such as the KASTOvariospeed oder KASTOtec with or without KASTOsort robots. For an efficient process, the parts must be sorted by order after sawing and handling and placed in appropriate boxes. One of the solutions used to date has been a container carousel with eight pallet spaces on which the robot can independently place and fill the respective boxes. This is a simple and cost-effective solution for buffering manageable quantities of material. "The recirculating sorter has its strengths, but it was clear to us that we wanted to offer customers an alternative for confined spaces," says Krebber, describing the background to the new development.