June 27, 2017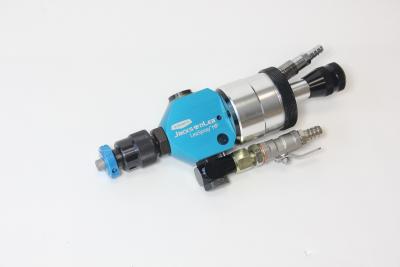 Osborn introduced the JacksonLea brand LeaSpray HP spray gun for use with all JacksonLea polishing compounds. Engineered for industrial liquid buffing compounds, the LeaSpray HP spray gun is similar to other powder coating and painting guns, but it has a versatile design that fits all types of control systems and applications, including hand, automatic and robotic applications. The LeaSpray HP also features efficient compound usage with high pressure that penetrates the turbulence of the spinning buff.
Designed to focus and deliver the compound exactly where it needs to be applied, the LeaSpray HP minimizes waste and offers a finish consistency that increases productivity and requires less rework and scrap. The LeaSpray HP is constructed for long wear life and requires less maintenance and downtime than similar products.
"As leaders and experts in the manufacturing of buffs and compounds, it made sense for us to incorporate the LeaSpray HP spray gun into Osborn's company goal of being a provider of surface treatment solutions from start to finish," said Tim Priestley, product manager, polishing at Osborn. "The LeaSpray HP gives customers a high quality product for a competitive price that will reduce costs, increase productivity and revolutionize the way they make their products shine."
Related Glossary Terms
buffing


buffing

Use of rapidly spinning wires or fibers to effectively and economically remove burrs, scratches and similar mechanical imperfections from precision and highly stressed components. The greatest application is in the manufacture of gears and bearing races where the removal of sharp edges and stress risers by power methods has increased the speed of the operation.

lapping compound( powder)


lapping compound( powder)

Light, abrasive material used for finishing a surface.

polishing


polishing

Abrasive process that improves surface finish and blends contours. Abrasive particles attached to a flexible backing abrade the workpiece.