August 01, 2015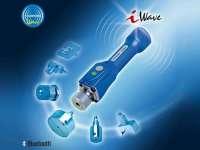 Marposs Corp. offers its new iWave2 wireless manual gage. The innovative iWave2 gage features a durable, ergonomically designed handle with rechargeable Li-ion battery that incorporates a computer with a 1.8" TFT color screen for displaying the measurement value in the operator's hand. Interchangeable nosepieces rapidly convert the gage for ID, OD or length measurements. Measurement values can be transmitted via Bluetooth wireless technology to a gage computer located within a 10m distance. The iWave2 gage has a measuring resolution of 0.0001mm.
In addition to the measurement value, the gage's color graphical display with selectable portrait/landscape view presents a variety of intuitive information for the operator. The iWave2 gage features a bar graph column with measurement unit, good/scrap part indication, wireless strength and battery levels, confirmation of measurement transmission, and an Absolute/Relative option setting.
The iWave2 gage is programmable for stand-alone use via Android phone/tablet or PC. Several useful functions are available with the iWave2 gage when used with Marposs Quick SPC statistical software, including switch on/off commanded by guided sequence; calibration history; and simultaneous zeroing of multiple devices.
The gage incorporates soft touch buttons that are impervious to moisture. Battery duration is approximately 16 hours, while the gage's inductive recharging system ensures continuous use 24/7.