December 29, 2020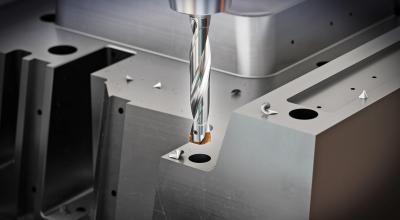 Coating advances and optimized designs take tool life and changeover speed to new highs with YG-1's new i-ONE system of exchangeable micro-grain carbide drill inserts and premium tool steel holders with coolant channels, the company recently announced.
"Our new i-ONE line offers the advantage of a solid carbide drill combined with the flexibility of steel bodies," said Steve Pilger, Product Manager, Holemaking. "i-ONE micro-grain carbide inserts combine a new, multilayered H-coating and optimized cutting angles with tool steel holders with Torx Plus® clamping stability.
"With those and other advanced features, i-ONE drills last longer than competitors' products. And when you finally need to change inserts, we engineered the i-ONE interface for foolproof and worry-free insert changeovers. It's just a great system." (See attached for test data.)
i-ONE drill inserts feature the latest YG-1 technological advances, including:
Micro-grain carbide core for exceptional strength
Advanced multilayered H-coating for excellent hot hardness, minimal wear
Optimized point geometry for centering and smoother cutting
Ground negative land on cutting edge for extended cutting life
The system's nickel-plated tool steel holder features:
Premium tool steel shaft optimized to resist corrosion and wear and ensure body clearance
Optimized flute shape for smooth chip evacuation
Torx Plus® Screw for reliable insert seating and stability at the full range of speeds
Coolant holes to dissipate heat in and evacuate chips from the cutting zone
The i-ONE system is the latest development from YG-1 engineers to help customers maximize machining productivity and profitability. i-ONE drills come in various insert sizes, and tool steel holders are available in 3xD, 5xD and 8xD depths and in ODs from.393 in. to 1.328 in. and Ø10mm to Ø33.73mm.