May 21, 2020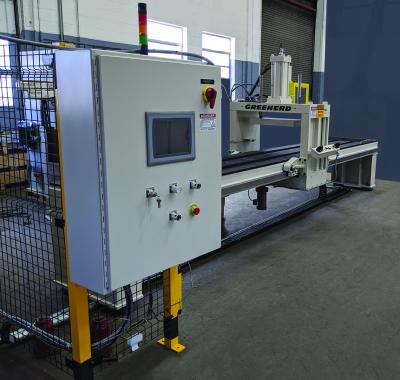 Greenerd Press & Machine Company will be exhibiting at IMTS Booth #236402, McCormick Place in Chicago, Illinois on September 14 - 19, 2020. In addition to showcasing the company's extensive hydraulic press and automation capabilities, application experts and design engineers from Greenerd will be available to discuss specific user applications and press requirements.
Greenerd will present unique hydraulic press application solutions at IMTS this year, including discussing an automated 30-Ton Gantry style hydraulic press which was built for an application requiring precise positioning of pins. A linear transducer mounted in the press cylinder enables a minimum depth to be programmed into the control to ensure proper pin depth has been achieved. The 25' long hydraulic press features automated gantry positioning with optical recognition of the distance between each set of pins to be inserted. The cycle can be initiated in autonomous operation where the gantry moves to each pin location and applies the set of tonnage on the pins.
"To meet the demands of today's challenging applications, we are providing manufacturers with press solutions that are flexible, productive and reliable as well as often being quite large and complex," commented Greenerd Press & Machine Company's CEO, Mr. Jerry Letendre. "For even greater manufacturing efficiency, we are able to provide our hydraulic press customers with turnkey, state-of-the-art robotic product handling solutions."
Greenerd is a Tier 1 Industrial Authorized Robot System Integrator of FANUC America Corporation, the industry's leader in automated manufacturing equipment. The partnership gives Greenerd full access to the comprehensive offerings of FANUC Robots including all models, training and support, providing state-of-the-art automation solutions in short time frames. Complete, fully integrated production systems can be provided including simple raw material feeding systems, and robotic solutions including loading/ unloading the press, the ability to perform an optional secondary part manipulation or process, automated inspection of parts and stacking finished products for downstream processes. The scope of automation can also encompass part inspection systems, ranging from small sensors to complex camera inspections, and temperature monitoring/ control of press and non-press related systems. Streaming critical production data to and from the press is also offered.
Greenerd's extensive line of hydraulic presses are available in a variety of styles ranging from gap frame and straight-side to die-spotting and forging presses, with unlimited size and tonnage capabilities. Greenerd has a long tradition of designing, engineering and manufacturing customized hydraulic presses with product handling solutions.