June 17, 2022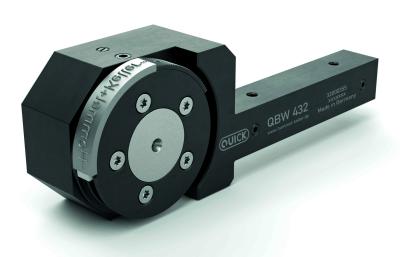 Platinum Tooling, the importer and distributor of live tools, angle heads, marking tools, Swiss tools and multi-spindle tools manufactured by various global suppliers, is now the North American importer of the QUICK® knurling and marking tools from Hommel & Keller.  The announcement was made by Platinum Tooling president, Preben Hansen, at headquarters in Prospect Heights, Illinois, near Chicago. 
A longtime global leader in high-end knurling and marking tools, Hommel & Keller manufactures the QUICK® line with a combination of function and innovation. Quality, precision and stability are the key principals used to make QUICK® tools successful. Furthermore, the company provides customized solutions for its customers. 
The QUICK® product spectrum offers innovative solutions for diverse knurling technology applications. For both form knurling and cut knurling, QUICK® fulfills the most stringent quality standards and masters difficult tasks. Knurling tools are available for use on a wide range of workpiece diameters, including small tools for Swiss type lathes from Ø 1.5 mm.  
QUICK® marking tools make it possible to mark workpieces in seconds on a variety of surfaces and part geometries.  Through single marking segments, the marking text can be individually customized. Tools are available in two diameters for interchangeable lettering, as well as custom logos.  
These tools are used whenever absolute precision and first-rate surface quality are needed. Examples include medical and dental instruments, watches, fishing gear, windshield wiper shafts, barbells, screwdriver bits, fittings, connectors plus welding and cutting equipment.   
To download the full catalog, click: https://platinumtooling.com/catalog/quick-catalog/
Related Glossary Terms
knurling


knurling

Chipless material-displacement process that is usually accomplished on a lathe by forcing a knurling die into the surface of a rotating workpiece to create a pattern. Knurling is often performed to create a decorative or gripping surface and repair undersized shafts.

wiper


wiper

Metal-removing edge on the face of a cutter that travels in a plane perpendicular to the axis. It is the edge that sweeps the machined surface. The flat should be as wide as the feed per revolution of the cutter. This allows any given insert to wipe the entire workpiece surface and impart a fine surface finish at a high feed rate.
Additional Products from Platinum Tooling Technologies Inc.