September 13, 2012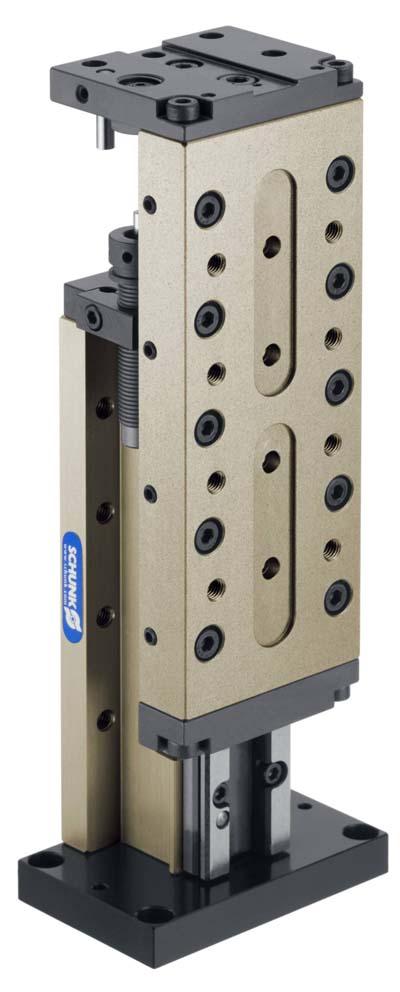 The new HLM Stroke Module from SCHUNK is compact, precise and resilient. The rigid design and the hydraulic dampening of the end positions allow minimum cycle times, making it ideal for automated high-performance assembly. Due to the compact design, and performance, it is also highly efficient in narrow installation spaces. Pre-clamped, scope-free cross roller guidances assure a high guiding accuracy and precision. At a repeat accuracy of 0.01mm, even very precise applications can be carried out process reliably.
The stroke module is available in four sizes with various strokes. The feed rate amounts to 482 N, the torsional moment to maximum 81,7 Nm. Therefore the whole program has 13 standard versions, and strokes between 0 and 150mm are feasible. At every version the stroke can be continuously fine-adjusted per side by up to 25mm, increasing flexibility. In case of power outage, the clamping cartridge prevents lowering of the slide.
The HLM is integrated into the unique modular system for modular assembly automation. Standard components can be assembled, by which systems for high-performance automation can be quickly and easily configured. It is suitable for the rapid handling and assembly of small components, particularly for electrical, consumer goods, and medical industry. Combined with rotary actuators and grippers it is excellently suitable for changing over components.
Related Glossary Terms
feed


feed

Rate of change of position of the tool as a whole, relative to the workpiece while cutting.