September 13, 2012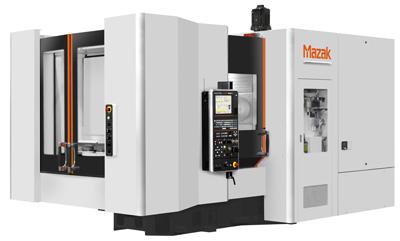 Mazak Corp. says its new HORIZONTAL CENTER NEXUS (HCN) 4000-III Horizontal Machining Center has design features that increase productivity, precision, reliability and production value. These key features include four spindle variations, taper cone pallets and extensive factory automation compatibility.
For fast, efficient and versatile machining of a wide variety of materials from steels to nonferrous metals, the HCN 4000-III can be equipped with one of four integral motor spindle types: standard, high torque, semi-high speed or high speed. The standard 40-taper 12,000-rpm spindle provides power and speed for general machining applications, while the high-torque heavy-duty 40-taper 14,000-rpm version generates 223 ft-lbs of torque to increase metal removal rates for hard to machine materials, steel and cast iron. With maximum speeds of 18,000 rpm and 30,000 rpm, the 40-taper semi high-speed and HSK high-speed versions allow for faster machining and superior surface finishes when cutting aluminum and other nonferrous workpieces.
With its choice of spindles, the HCN 4000-III is equipped with a 40-position tool storage magazine, and as optional, Mazak offers 60-, 80-, 120- and 160-postion magazines in addition to its tool hive magazines with either 180, 240 or 330 positions. The large tool storage capacity of the HCN 4000-III allows shops to handle a wide variety of parts in small lot sizes and perform continuous unattended machining over long periods of time.
As part of its two-pallet changer, the HCN 4000-III's 15.75" sq. (400mm-sq) pallets use four-point tapered-cone clamping systems instead of center-clamping ones. The tapered-cone pallets increase machining rigidity and extend tool life while providing stability for increased allowable machining thrust, especially for larger/taller workpieces.
For automated operation, a standalone robot can be used to load and unload the HCN 4000-III. Plus, the machine is easily incorporated into Mazak's PALLETECH Automation System. Available in one or two level configurations for the HCN 4000-III, the PALLETECH system provides the flexibility for shorter product lifecycles, reduced in-process inventory, and just-in-time production, as well as completely automated, lights-out Done-In-One cell manufacturing.
While the HCN 4000-III is compact in size and takes up only 87.01" x 214.72" (2,210mm x 5,454mm) of floor space, it provides ample axis travels of 22.05" (560mm) in X and 25.2" (640mm) in Y and Z. The axes rapid at 2,362 ipm (60,000)mm/min and accelerate/decelerate at 0.8 G to reduce non-cut times. The HCN 4000-III features the MATRIX NEXUS 2 CNC control that simplifies the machine's multi-tasking operations.
Conversational part programming can be accomplished in MAZATROL language while the machine is cutting another part, or off-line in a CAD/CAM system. Once imported into the control, a realistic 3D cycle simulation verifies the machining cycle and checks for machine interferences, greatly reducing set up time.