April 04, 2017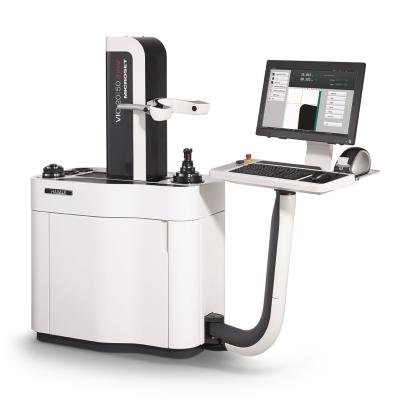 In the USA, time is the most expensive component of the manufacturing process. Tool set up prior to any job being run represents a significant amount of that time, which is why tool presetters represent a monetary savings for any shop, because they save time. Haimer's new Microset tool presetting equipment streamlines tool setting processes, reducing set up times by as much as 70 percent, thereby minimizing idle time and increasing machine utilization.
Some key differentiators:
• Ease of use (turn it on and go)
• Uncomplicated software (no software engineering degree required)
• Stable base construction (cast iron, not aluminum)
HAIMER says it offers a range of tool presetting equipment under the Microset banner that will fit every application and budget. In addition to precision, speed and reliability, the UNO series includes unique high-tech features not usually seen in entry-level tool presetters.
The entry-level machine, the UNO Smart, features a small footprint, user-friendly operation and high precision. It is for measurement during production. Repeatability is ±5 microns. Representing a high standard of manual tool presetting, the UNO Premium is suitable for almost every user. It features accurate measuring results, direct data transfer and repeatability of ±2 microns. The UNO Autofocus allows you to take advantage of enhancements, such as a 22" touch screen, edge finder and motorized fine adjustment of the C-axis for demanding measurements (2 microns for spindle runout). With a fully automated measurement operation, the UNO Automatic Drive is fully independent of the operator and can be used with minimal user expertise.
For added convenience and functionality, the VIO series offers high reliability with high-quality components. Whether operated manually or with the optional semi­automatic (autofocus) feature, the VIO basic is one of the most modern presetting devices in its class, with many features and a range of standard equipment, according to the company. The VIO Linear is a solution for fully automatic high-end tool presetting with customizable options. The modular concept makes it possible to preset tools up to 1,000 mm in length and diameter. The available tool shrink option is ideal for multispindle machines.
All of the automated presetters use the company's Microvision image processing system. This software enables users to realize considerable time savings during the job setup and preparation. It does so by measuring and setting tools, quickly, precisely and independently. Modern image processing ensures that the tools are quickly and accurately measured and in turn guarantees the highest quality in your production processes. Complex tools can be measured within a short period of time with the latest measuring techniques.
The Microset tool presetting devices are compatible with machine tools from all manufacturers. Post-processed data is transferred to the relevant data exchange drive either via the network or via USB. Control systems from Siemens, Heidenhain, FANUC, MAPPS and many others can be connected by USB data storage, Ethernet LAN or RS232.
The Microset tool presetting machines can be integrated with all popular RFID systems. Read/write heads can be positioned automatically or manually for any toolholder system.
Related Glossary Terms
edge finder


edge finder

Gage mounted in the spindle of a vertical mill and used, while rotating, to find the center of a part relative to the toolholder.

toolholder


toolholder

Secures a cutting tool during a machining operation. Basic types include block, cartridge, chuck, collet, fixed, modular, quick-change and rotating.
Additional Products from Haimer USA LLC