July 01, 2010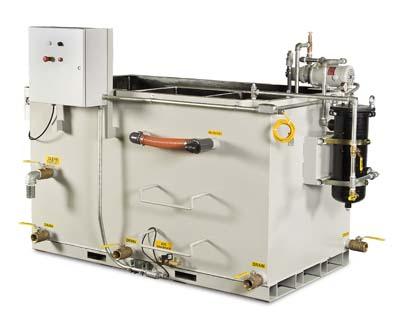 PRAB's Guardian coolant recycling system is a fluid reclamation management tool for operations with industrial coolant or washwater reservoirs. The Guardian system reduces new fluid purchases by up to 75 percent and reduces waste fluids up to 90 percent by recycling used coolants, according to the company. Free-floating and mechanically dispersed tramp oils are reduced to 0.1 percent or less at process rates of 90 to 1,500 gph. Guardian systems operate on a continuous overflow process, providing multiple passes to prevent rancidity.
Related Glossary Terms
coolant


coolant

Fluid that reduces temperature buildup at the tool/workpiece interface during machining. Normally takes the form of a liquid such as soluble or chemical mixtures (semisynthetic, synthetic) but can be pressurized air or other gas. Because of water's ability to absorb great quantities of heat, it is widely used as a coolant and vehicle for various cutting compounds, with the water-to-compound ratio varying with the machining task. See cutting fluid; semisynthetic cutting fluid; soluble-oil cutting fluid; synthetic cutting fluid.

rancidity


rancidity

Bacterial and fungal growths in water-miscible fluids that cause unpleasant odors, stained workpieces and diminished fluid life.