June 01, 2011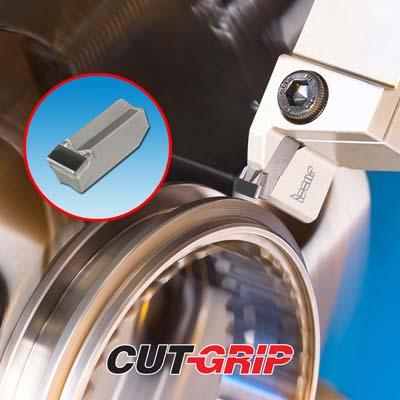 ISCAR has fine-tuned its workhorse GROOVE TURN cubic boron nitride (CBN) formulation to materially improve rough and finish grooving on hard ferrous materials under a wider range of conditions. They have created new CBN grade IB10H, which is harder than the mainstay grade IB50; and grade IB20H which is stronger and tougher.
In a continuous-cut external groove-turn on punishing 4340 steel hardened to 58-61 HRc, the GROOVE TURN IB10H tool lasted through 20 parts vs.7 for IB50 and produced a fine surface finish. In an interrupted cut in the identical material, an IB20H tool delivered 500 parts per edge vs. 350. Of note is that the failure mode with the new inserts was gradual edge wear, not sudden cracking or rupture.
Grade IB10H, with 53 percent fine-grain CBN content, features the identical edge preparation as its predecessor IB50. By contrast, the honed edge on the IB20H is slightly larger and at a sharper angle, to withstand less ideal cutting conditions. Its substrate content is 63 percent fine- and medium-grain CBN. Both new grades come in two styles that target hard ferrous materials: GROOVE TURN GITM for turning and grooving, and GROOVE TURN GITM (full radius) for profiling and grooving. In a profiling test in 1045 tool steel hardened to 60 HRc, the GITM (full radius) tool outlasted its IB50 counterpart 200 parts to 80.
Additional Products from Iscar USA