May 19, 2022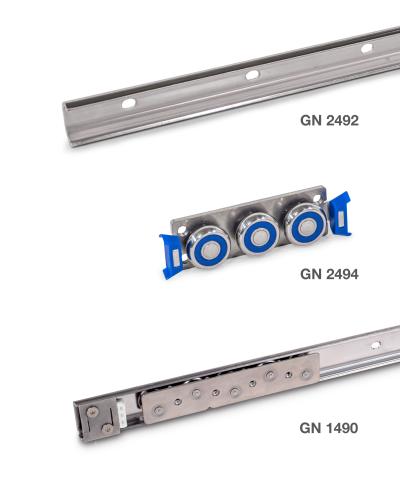 If precise, quiet and dynamic linear movements are required, linear guide rail systems are indispensable. For special applications, JW Winco has now produced its modular system in stainless steel.
Even if they might appear so at first glance, not all linear guide rail systems are the same. The differences reveal themselves upon a closer look and tend to lie in fundamental aspects rather than mere details. This is why Winco offers a number of different models and versions.
The most recent addition is the stainless steel version in the two most important guide rail heights of 1.18 in (30 mm) and 1.77 in (45 mm). These guide rails are assembled from precisely matched components: linear guide rails GN 2492, the matching cam roller carriages GN 2494 and the separately available wipers of TPU plus the individual rollers with three different bore types. The exceptionally stable guide rails are produced in a rolling process and can be mounted using the typical bore pattern, even up to a rail length of 97.64 in (2480 mm). The compact cam roller carriages run securely within the C-shaped rail, and the vertical play can be adjusted on the middle roller – a typical Winco feature. The ball bearings of the rollers are sealed, lubricated for life and FDA-compliant (as indicated by the blue seals). As a result, these linear guide rail systems can be used in corrosive environments as well as areas with strict hygiene requirements.
The linear guide rail systems of the GN 2422 series can be assembled just as individually. In this case, the C-shaped guide rails GN 2422 are available in four heights and are made of nonwarping zinc-plated, hardened and ground steel. The matching cam roller carriages GN 2424 come in three versions, each with adjustable middle roller. All rollers and the wiper can also be purchased individually. When mounted to the cam roller carriages, the wipers remove dirt from the guide rails during every movement to ensure smooth travel at all times.
Alongside these linear guide rail systems designed for extreme demands, Winco also carries simpler variations in its product range, which are quite sufficient for standard applications. GN 1490 is offered in two heights as a complete set including rail and carriage – in zinc-plated steel or stainless steel. Thanks to slightly over dimensioned rollers, the carriages run quietly and precisely within the C-profiles with zero backlash. The lifetime lubrication and dust proof sealing of the bearing also make valuable contributions here.
With these three models, Winco offers ideal solutions for all quality requirements and price points.
Related Glossary Terms
backlash


backlash

Reaction in dynamic motion systems where potential energy that was created while the object was in motion is released when the object stops. Release of this potential energy or inertia causes the device to quickly snap backward relative to the last direction of motion. Backlash can cause a system's final resting position to be different from what was intended and from where the control system intended to stop the device.

computer-aided manufacturing ( CAM)


computer-aided manufacturing ( CAM)

Use of computers to control machining and manufacturing processes.

wiper


wiper

Metal-removing edge on the face of a cutter that travels in a plane perpendicular to the axis. It is the edge that sweeps the machined surface. The flat should be as wide as the feed per revolution of the cutter. This allows any given insert to wipe the entire workpiece surface and impart a fine surface finish at a high feed rate.