June 14, 2019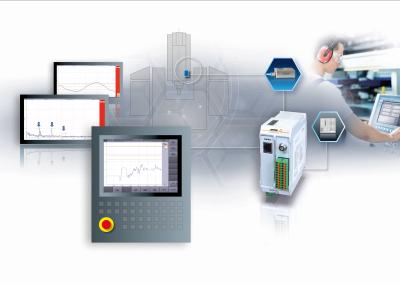 Marposs Corp. has announced the availability of its Genior Modular GEMCMS-02 single-channel, compact machine monitoring system for collision monitoring and crash damage mitigation in machine tools. The GEMCMS-02 can be used as a stand-alone system or in combination with other Genior Modular solutions, achieving both collision detection and process monitoring simultaneously and visualizing the processes in parallel. It can be integrated into machine tools, equipment or robots, providing a better way to protect and safeguard machine tools and minimizing the risk of downtime that can occur by programming, setup or operating errors.
As with the entire Genior Modular system, the GEMCMS-02 is independent of control or machine type and can be retrofit to existing machines. It provides protection from the first part, with no teach cut required.
The GEMCMS-02 monitors the deformation of the spindle housing structure via a piezo strain sensor that detects irregularities in the production process. It measures elastic deformation in the range of 1/10 of a micron, and both slow and dynamically (impact or shock) increasing forces which can indicate damage potential. It then generates a stop signal within 1 millisecond, helping to alleviate or even eliminate machine crashes that can result in high repair costs and long downtimes.
The system kit consists of an electronic module, a sensor and a software package for configuration, visualization and data management achieved by connecting an Ethernet cable to a Windows-based industrial PC unit, machine control panel running in Windows OS or IPC4 dedicated monitor. There are three operation modes and three limits per mode (warning, soft and hard stop outputs limits). Detailed event records are captured including date, time and other signals and can be used for further evaluation. Operators of all skill levels can benefit from it immediately and without having to attend complex training courses.