September 22,2020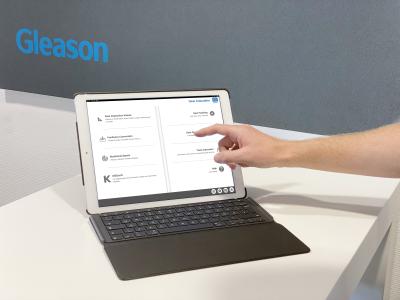 Gleason announces the new "Gear Calculator App". This free mobile app bundles simple calculation tools to make gear manufacturer's daily work life more efficient and productive. The Gear Calculator toolbox includes calculations for gear inspection values like addendum modifications, base tangent lengths and measurement over balls, it provides a hardness converter including tensile strength, Rockwell, Brinell or Vickers, the calculation of rotational speeds, calculation of deviations within gear quality standards, feed rates and chip thickness when gear hobbing, and a twist calculator to determine the natural twist when threaded wheel grinding. Future updates are planned to make the app even more useful.
The Gear Calculator App works online and offline, it runs on pcs/notebooks as well on mobile devices with Android and iOS. The App must be connected online to install future updates. Please note that you will need a current browser/version to view the Gear Calculator App. When starting the App for the first time it is necessary to register and log into "MyGleason" (for both the PC/notebook version as well as the Mobile App).
http://www.gleason.com/gear-calculator
Installing the App on Your Mobile Device
For Android, open the browser menu and select 'Add to Start Screen'.
For iOS select 'Add to home screen' in the share menu. A new icon called Gear Calculator will be created on your home screen or App Drawer.
General instructions on installing Apps: https://support.google.com/chrome/answer/9658361