January 25, 2019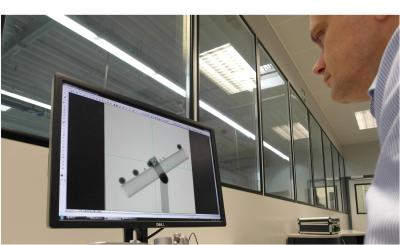 Exact Metrology has acquired a new metrology-grade GE Phoenix v|tome|x m, a CT scanner system with dual tube technology, nanofocus to 180Kv and microfocus to 300Kv, significantly expanding the company's capability in 3D scanning to 2 microns with sufficient power to measure denser parts. Exact Metrology is the first company in the U.S. to purchase this system, according to company sources.
Exact President Steve Young notes, "We bought the new system because it has significantly greater accuracy, better detail and great reliability. Exact is currently seeking users for this new system." The system has already received operational approval from the state of Ohio and is installed at the company's main facility in Cincinnati.
The Phoenix v|tome|x m system features a unique temperature stabilized detector array (up to 30fps) for extremely fast CT data acquisition on workpieces up to 500 mm in diameter and 600 mm in height, weighing up to 50 kg (110 lbs). Typical functions performed on this system might include 3D analysis of a scanned turbine blade, automatic pour porosity volume analysis on an aluminum casting and 3D measurements with nominal-actual CAD comparisons on a machined aluminum cylinder head.
Exact Metrology is offering this service for process control and customer R&D functionality, plus scientific research applications.
With full CT automation, click and measure capability and the dual tube technology, this new system can perform analyses on an extremely wide range of samples, from high-resolution nano CT of low-absorbing samples to the high-power micro CT applications such as engine turbine blades.
Other applications for possible utilization of this new system at the Exact Metrology facility include light metal castings, electronic assemblies, thermoplastic molded and composite parts, plus all types of machined metals.
Compared to conventional tactile or optical CMMs, this new scanner system can generate a first-article inspection report including internal dimensions in less than one hour, with high accuracy and repeatability.
Utilizing the GE Phoenix Datos|X CT and Volume Graphics software platform further enables full automation of the system at Exact Metrology, thereby reducing the time to perform the testing procedures.
Related Glossary Terms
computer-aided design ( CAD)


computer-aided design ( CAD)

Product-design functions performed with the help of computers and special software.

metrology


metrology

Science of measurement; the principles on which precision machining, quality control and inspection are based. See precision machining, measurement.

process control


process control

Method of monitoring a process. Relates to electronic hardware and instrumentation used in automated process control. See in-process gaging, inspection; SPC, statistical process control.