February 07, 2019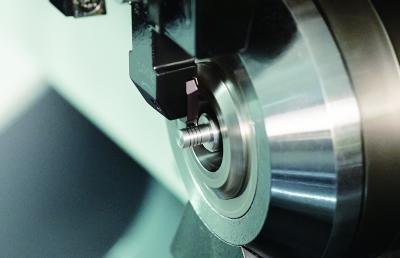 Kyocera Precision Tools expands the GBF grooving series for small parts machining to include new coolant-through (JCT-series) holders and a GL chipbreaker for larger groove widths. The new KGBF-JCT style holders feature internal coolant holes that direct coolant closer to the cutting edge from the top of the insert.
Achieve superior cooling action and excellent chip control when making small grooves. The coolant hole is designed to discharge an ample supply of high-pressure coolant to the cutting edge and provide stable chip curls.
Related Glossary Terms
chipbreaker


chipbreaker

Groove or other tool geometry that breaks chips into small fragments as they come off the workpiece. Designed to prevent chips from becoming so long that they are difficult to control, catch in turning parts and cause safety problems.

coolant


coolant

Fluid that reduces temperature buildup at the tool/workpiece interface during machining. Normally takes the form of a liquid such as soluble or chemical mixtures (semisynthetic, synthetic) but can be pressurized air or other gas. Because of water's ability to absorb great quantities of heat, it is widely used as a coolant and vehicle for various cutting compounds, with the water-to-compound ratio varying with the machining task. See cutting fluid; semisynthetic cutting fluid; soluble-oil cutting fluid; synthetic cutting fluid.

grooving


grooving

Machining grooves and shallow channels. Example: grooving ball-bearing raceways. Typically performed by tools that are capable of light cuts at high feed rates. Imparts high-quality finish.