February 07, 2019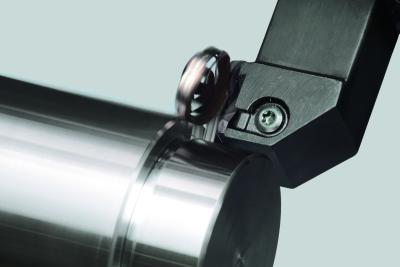 Kyocera Precision Tools expands insert lineup of the GBA grooving system with new insert grade PR1625 for steel and stainless steel grooving applications. PR1625 is a designed with high hardness and toughness with a highly stable carbide base material and MEGACOAT NANO coating technology for excellent wear resistance when grooving light interrupted to heavily interrupted cuts.
The GBA grooving system features inserts with three usable cutting edges that are available in grades PR1215 for general-purpose grooving, TN620 for surface finish oriented grooving, and stable PR1625 for more interrupted cuts. The insert's GM chipbreakers are designed to maintain smooth chip control that provides a more stable groove in a wide range of shallow grooving applications.
Related Glossary Terms
grooving


grooving

Machining grooves and shallow channels. Example: grooving ball-bearing raceways. Typically performed by tools that are capable of light cuts at high feed rates. Imparts high-quality finish.

hardness


hardness

Hardness is a measure of the resistance of a material to surface indentation or abrasion. There is no absolute scale for hardness. In order to express hardness quantitatively, each type of test has its own scale, which defines hardness. Indentation hardness obtained through static methods is measured by Brinell, Rockwell, Vickers and Knoop tests. Hardness without indentation is measured by a dynamic method, known as the Scleroscope test.

wear resistance


wear resistance

Ability of the tool to withstand stresses that cause it to wear during cutting; an attribute linked to alloy composition, base material, thermal conditions, type of tooling and operation and other variables.