May 01,2015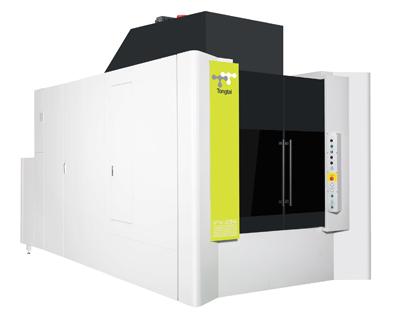 Absolute Machine Tools announces the brand new FV Series vertical machining centers by Tongtai (formerly the OEM for Hitachi-Seiki, Japan). These versatile and flexible machines are built in both single-spindle and twin-spindle head designs for mass production lines of complicated workpieces in automotive, appliance, electronics, and energy industries. Machines in this series are also suitable for automatic production with the integration of a robot on either a floor-type motion axis rail system or overhead gantry. The fixed twin-spindle type is able to process two individual machining tasks simultaneously. With the addition of an A-axis trunnion table, the FV series instantly becomes a horizontal machining center, offering two machines in one, reducing floor space and additional machinery costs.
The automatic pallet changer (APC), standard on all machines, can change pallets as fast as 4 seconds. The APC is built with triple-point clamping and supporting, providing superior pallet stability and high quality part surface finishes. The gear is a planetary type that is preferred over a worm-gear type APC because it allows for better position accuracy, zero backlash, long-term durability, and noticeable reduction in overall shop noise. The APC is driven by servo motors rather than by the traditional hydraulic-driven method to save energy and maintenance costs.
Optional built-in tilt rotary tables or built-in tilt fixtures turn this machine into a 5-sided or 5-axis machining center. The C-axis rotary table option has a table size of 350mm for single-spindle or 220mm for twin-spindle models, both with a 360° stroke. The A-axis trunnion rotary table design has a stroke of -30° to 180° for both single and twin models.
The automatic tool changer has a built-in tool carousel. According to the tool's position, the FV series is able to determine whether to move the spindle or the tool magazine to shorten tool change time. Tool capacity is 24 for single-spindle or 48 for twin-type with an 84-tool magazine as an option. Tool to tool change time, whether retrieved by the spindle or the magazine, is a speedy 1.2 seconds. A coolant-through spindle system is optional as are various chip conveyors to accommodate different materials and chip sizes.
The Tongtai Intelligent Manufacturing System, or TIMS, is among the newest technologies available in the machine tool industry. Developed by Tongtai and partnering with FANUC, this system includes four basic management functions for any size manufacturing company to improve productivity and accuracy, facilitate part production, and provide machine tool protection and maintenance assistance. The Production Management System monitors cutting loads, checks pallet change functions, records alarm messages, and assists in troubleshooting and maintenance support.
The Intelligent Management System performs motor load monitoring, implements machining adaptive control for protecting tooling and ensuring cutting efficiency, and provides crash protection for real time detection of servo loads during feeding. Tool Management records machining dates, times, and usage for tool life tracking and management, tool compensation, and tool overload protection. The fourth management function is Workpiece Management. This function incorporates software using a built-in CCD camera to monitor the characteristics of a particular workpiece, and will calculate and compensate program coordinates for maximizing machining precision.
The key specifications include 1-G rapid traverse rates in X/Y/Z for both single and twin-spindle models of 75m/min. and 50/100 rpms in both A and C axes. Travels for the single-spindle type are 710/460/460mm in X, Y, and Z, and for the twin-type model are 300/460/460mm.