March 01, 2015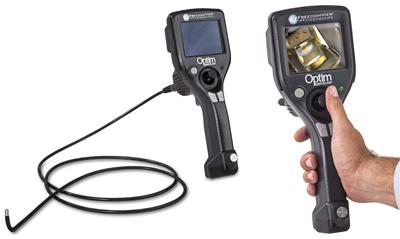 Titan Tool Supply Inc. announces the introduction of the new FreedomView LED Videoscope by Optim LLC. Designed to conduct and record inspections quickly and safely, FreedomView features a patented, integrated LED light source with variable intensity control and a sleek, compact design to provide exceptional visibility and flexibility, according to the manufacturer. The unit can capture still images and streaming video (JPG and AVI file formats) with a date and time stamp, and can store more than 8,000 still images.
The company says that the most challenging inspections are reached within seconds, and that FreedomView is ideal for examining: aviation engines, military equipment, gas turbines, non-destructive testing, power generation, contraband searches, US Customs and border protection, and interdiction as well as tactical law enforcement applications.
FreedomView has a field of view of 80° and depth of field from 5mm to infinity. The Tungsten braid probe has shaft diameter of 6mm (0.236") and flexible length of 2.0m (79"). The unit is powered by two rechargeable Li-Ion batteries that provide more than two hours operating time, Titan Tool states. Other features include a 3.7" touchscreen display, 110° up-down/left-right joystick control, and play/pause video controls.
FreedomView can function in a wide range of operating temperatures, from -13°F to 158°F (-25°C to 70°C) ambient and 50°F to 86°F (10°C to 30°C) in liquid. The unit is packaged in a rugged carrying case that includes two batteries, a battery charger cradle with AC power supply, an 8GB SD memory card, and operator's manual.