November 20, 2017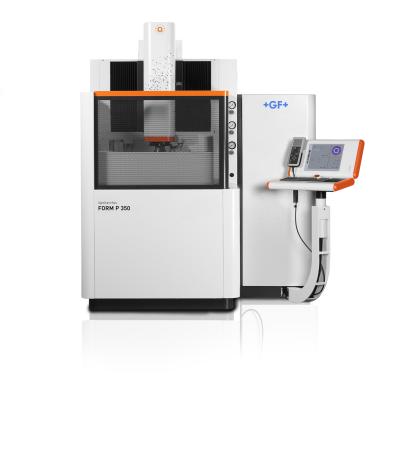 GF Machining Solutions says its new FORM P 350 die sinking EDM machine features precision-enhancing design qualities along with several integrated technologies to enable shops to easily enhance productivity and profitability.
A compact C-axis construction, fixed table and cast iron frame offer high stability and force reduction to help maintain a precise spark gap between the part and the electrode. Regardless of part weight or dielectric volume, the FORM P 350 delivers consistent accuracy and a fine surface finish of Ra 0.1 μm. Integrated glass scales preserve long-term, repeatability and eliminate the need for recalibration as well as any errors found in traditional screw systems due to backlash and wear.
At the heart of the machine is GF Machining Solutions' own high-end, Intelligent Power Generator (IPG), one of the world's most powerful generators for die sinking EDMs. With integrated quality-enhancing and cost-saving intelligence, the company's TECFORM module ensures that the EDM process is continuously optimized with each pulse to significantly reduce electrode wear or obtain the finest finishes.
The embedded TECFORM module allows the FORM P 350 to quickly and safely achieve the best performance and desired results. Segment-dedicated technology eliminates the need for the operator to adjust the generator's parameters. Spark process control takes a fraction of a second and produces an extremely homogeneous surface finish. In combination, these features yield greater reliability, improved machining efficiency and significantly less unproductive time.
Equipped with GF Machining Solutions' breakthrough iQ (innovation + quality) groundbreaking technologies to control the erosion process of graphite and/or copper electrodes, the FORM P 350 is effective at reducing costs in die sinking operations. iQ technology brings together fast and efficient electronics capable of real-time spark characteristic analysis and adjusts the current setting as needed for absolute pulse efficiency. This ensures wear-free spark erosion, high precision, extremely efficient performance, unparalleled respect for detail, and greater control over the cost of the electrode.
The machine console is equipped with the user-friendly AC FORM HMI (human machine interface) that is based on a standard Windows platform and offers interactive graphical assistance so that all operations, such as measurement and machining cycles, are illustrated by graphics/icons for fast operator understanding and ease of use. It provides simple descriptions of machining targets, automatic selection of optimal technology and dynamic parameters adaption.
The FORM P 350 comes standard with a four-position linear toolchanger for System 3R macro tooling. A rotary toolchanger (RTC) can be added to replace the four-position linear tool changer on the left side of the machine to increase the number of electrodes up 160 in a small space. The FORM P 350 can also be paired with the System 3R WorkPartner 1+ robot for unattended night and weekend operation.
With X/Y/Z axes travels of 17.8" x 9.8" x 11.8" (350 x 250 x 300 mm), shops can efficiently machine workpieces up to 27.6" x 18.1" x 10.8" (700 x 460 X 275 mm).