March 01,2010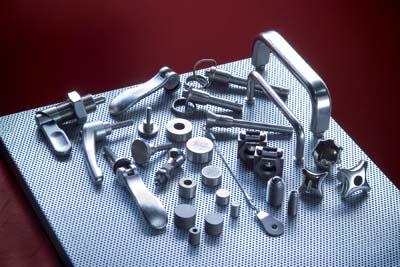 As part of its ongoing drive to provide customers—OEMs, shop owners, manufacturing engineers, tooling specialists, setup technicians, fixture, workholding and jig designers—with the innovative tools and technologies needed to enhance quality and productivity throughput, Fixtureworkscontinues to expand its product offering to encompass an ever growing list of stainless steel fixturing, workholding and operating elements.
As a leading North American supplier of workholding technologies and machine tool components, Fixtureworks' stainless steel items gives the ability for OEM, machine, forming and fabricating shops to design and construct application-specific, custom fixtures with the economics and quick availability of standard, off-the-shelf parts and hardware. Ideal uses include machinery and equipment destined for food preparation industries, medical suppliers, operations where frequent cleaning/sanitizing are required, and in processes involving corrosive conditions and severe chemical atmospheres.
Among the many stainless steel products available is a wide range of Fairlane Products Quick-Release Ball Lock Pins in 17-4PH shanks and 300 series stainless. Offered as complements to the Ball Lock Pins are a host of wire rope lanyards, receptacles and end caps also made from stainless steel.
Fixtureworks also has stainless steel Kipp handles and levers in inch or metric sizes, featuring female threaded bushing inserts or male threaded studs, plus an entire stainless handle/lever selection. Additional stainless steel products from Kipp range from knurled nuts and thumb screws to palm and star grips, plastic handled grips with stainless steel thread inserts, stirrup shaped pull handles, bow and tube handles, and the complete Novo-Grip line of handles—mushroom, ball and clamp grips, knurled wheels and wing grips. The Kipp lineup supplied by Fixtureworks also encompasses a variety of spring plunger configurations.
The list of stainless steel products also contains a series of locking bolts from Kipp—fixturing components utilized to help prevent sideways movement of workpieces in fixtures due to lateral forces. As well as offset cam-style fixture clamps, in both metric and inch dimensional sizes, from Mitee-Bite for basic clamp and fixture holding applications.
Related Glossary Terms
bushing


bushing

Cylindrical sleeve, typically made from high-grade tool steel, inserted into a jig fixture to guide cutting tools. There are three main types: renewable, used in liners that in turn are installed in the jig; press-fit, installed directly in the jig for short production runs; and liner (or master), installed permanently in a jig to receive renewable bushing.

fixture


fixture

Device, often made in-house, that holds a specific workpiece. See jig; modular fixturing.

jig


jig

Tooling usually considered to be a stationary apparatus. A jig assists in the assembly or manufacture of a part or device. It holds the workpiece while guiding the cutting tool with a bushing. A jig used in subassembly or final assembly might provide assembly aids such as alignments and adjustments. See fixture.