November 01, 2014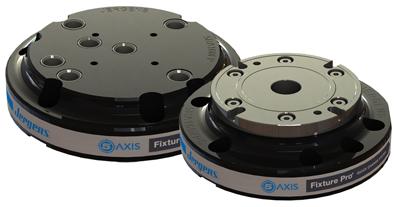 Jergens Inc. announces its universal multiple-axis rotary adapters for a range of 3-, 4- and 5-axis applications. The two additions are designed with FixturePro QLS mounting system or Jergens Zero Point System (ZPS), which provide easy implantation on a range of standard rotary indexers and tables.
The new FixturePro adapter permits the easy mounting of FixturePro system vises, dovetail vises, collet holders and the Drop & Lock pallet changers for flexible multiaxis workholding options on popular rotary indexers and trunions. The complete FixturePro system includes additional components such as subplates, risers and adapters for any 5-axis or multiaxis machine. Additionally, FixturePro quick change capability allows for reduced set up time and the ability to keep components in their original clamping through multiple operations to ensure tolerance and repeatability.
ZPS systems from Jergens provide a single step to fix, position and clamp parts, reducing setup time by as much as 90 percent. At the same time, repeatability of 0.0002" can be achieved.
Related Glossary Terms
collet


collet

Flexible-sided device that secures a tool or workpiece. Similar in function to a chuck, but can accommodate only a narrow size range. Typically provides greater gripping force and precision than a chuck. See chuck.

tolerance


tolerance

Minimum and maximum amount a workpiece dimension is allowed to vary from a set standard and still be acceptable.