March 04,2020
Related Glossary Terms
family of parts


family of parts

Parts grouped by shape and size for efficient manufacturing.

polishing


polishing

Abrasive process that improves surface finish and blends contours. Abrasive particles attached to a flexible backing abrade the workpiece.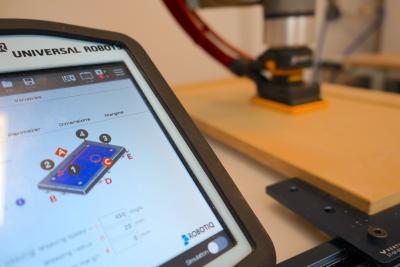 Robotiq announced new functionalities for its Finishing Copilot software. Designed for manufacturers with polishing or sanding processes, the software's new weaving motion and variable trajectory planning enables a cobot to adjust its own path. This means cobots can finish a family of parts without the operator having to adapt the program.
Finishing Copilot is an integral part of the company's most recent addition to its application kit product line, the Surface Finishing Kit. Developed for Universal Robots, this hardware and software solution unlocks a never-before-seen level of flexibility for finishing applications — all while allowing operators to use their preferred orbital tool, because the Surface Finishing Kit is compatible with over 20 tools from leading worldwide brands.
"Manufacturers have invested time in refining their finishing process, right down to determining which tool results in the perfect finish for their products. We developed Finishing Copilot and the Surface Finishing Kit with our customers' process and requirements in mind," said Michel Beauchemin, product owner for finishing applications at Robotiq. "Our new application kit is compatible with over 20 finishing tools, while the simple teaching method of the Finishing Copilot's updated software functionalities provide an efficient finishing solution for products of different sizes and materials like wood, plastic, metal and more."
"The Finishing Copilot integrates seamlessly with Universal Robots' collaborative robot arms," said Joe Campbell, senior manager of application development at Universal Robots. "We're excited to add this to our UR+ platform of certified plug-and-play products for UR cobots and expect great market traction. This is a solution that expertly addresses manufacturers' polishing and sanding challenges while also offering compatibility with the orbital tools they are already familiar with."