April 01,2010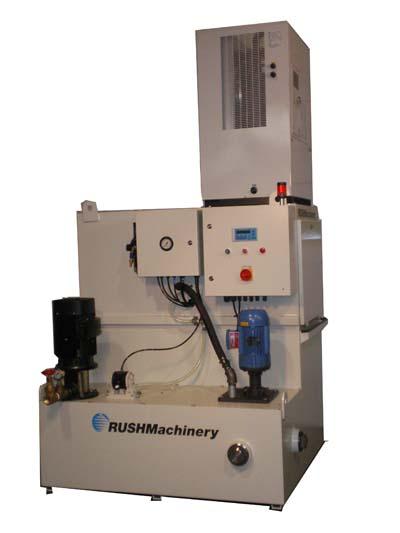 Rush Machinery Inc. introduces redesigned high-performance filtration systems. Designed to integrate with most grinding, lapping and honing machines, the FC-300 filtration system provides continuous filtration, automatic back flush and clean fluid on demand to machines. The enhanced capabilities and features of the filtration systems include: The ability to filter oil or water-based coolant using edge filtration technology. Oil can be filtered to a 1µm particle size and water to 5µm (nominal) particle size. This provides for improved surface finishes, extends the life of grinding wheels and fluids, and reduces machine maintenance. Filtration systems for water utilize stainless steel edge filtration elements and vessels that never need replacing, according to the company. On multi-vessel systems, vessels are automatically back-flushed individually to provide a constant supply of clean fluid during the regeneration cycle. Balanced clean and dirty fluid tank sizes ensure separation of clean and dirty fluid during automatic regeneration of filter elements. Compact system footprint. Customized systems to fit your machines and shop floor layout. Single and multi-pump configurations are available for clean fluid delivery to your machine tools. All components are designed and located for ease of maintenance. An optional cooling system can be incorporated to ensure optimal grinding oil temperature.
Related Glossary Terms
coolant


coolant

Fluid that reduces temperature buildup at the tool/workpiece interface during machining. Normally takes the form of a liquid such as soluble or chemical mixtures (semisynthetic, synthetic) but can be pressurized air or other gas. Because of water's ability to absorb great quantities of heat, it is widely used as a coolant and vehicle for various cutting compounds, with the water-to-compound ratio varying with the machining task. See cutting fluid; semisynthetic cutting fluid; soluble-oil cutting fluid; synthetic cutting fluid.

grinding


grinding

Machining operation in which material is removed from the workpiece by a powered abrasive wheel, stone, belt, paste, sheet, compound, slurry, etc. Takes various forms: surface grinding (creates flat and/or squared surfaces); cylindrical grinding (for external cylindrical and tapered shapes, fillets, undercuts, etc.); centerless grinding; chamfering; thread and form grinding; tool and cutter grinding; offhand grinding; lapping and polishing (grinding with extremely fine grits to create ultrasmooth surfaces); honing; and disc grinding.

lapping


lapping

Finishing operation in which a loose, fine-grain abrasive in a liquid medium abrades material. Extremely accurate process that corrects minor shape imperfections, refines surface finishes and produces a close fit between mating surfaces.