June 25, 2018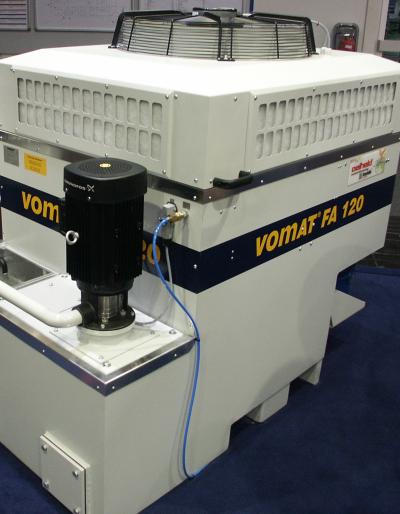 HSS has developed into an important quality and added value factor in the production of cutting tools. VOMAT supplies compact and capable filtration machines with its FA series. The systems can be configured with add-on or optional modules to customer-specific high-performance filters.
VOMAT FA series systems separate and clean oil 100 percent. While back-flushing the filter cartridges the PLC controller ensures that clean oil in quality NAS 7 (3-5 µm) is still sufficiently at the point of grinding. Features such as demand-driven filtering and back-flushing help ensure that the cooling lubricants have a significantly longer service life with maximum purity. This reduces maintenance and machine downtimes, among other things.
Steffen Strobel, technical sales manager at VOMAT, states: "VOMAT systems are available stand- alone machines, as modular systems tailored to individual special needs with central and decentralized functions. Thanks to various add-on components such as internal, external or drive cooling, patented sludge collection systems, additional tanks and machine supply pumps, VOMAT can adapt the filter systems precisely to customer-specific production needs and conditions."
A good example is the mixed processing of HSS and carbide. Thanks to a special pre-filter, the HSS swarf up to approx. 50 µm are filtered out. This is necessary not clog the second stage pre-coat filter medium prematurely. The second filtration stage, removes particles in size up to 3 to 5 µm.
If a tool manufacturer operates machines that require very large oil volumes, have buffer tanks with lifting pumps or are connected to the filtration system via a very long, branched pipe networks, VOMAT provides additional tanks and integrates them, as well as machine supply pumps in the required capacity to fit the respective system configuration.
In addition to high-performance filtration systems, accurate cooling is a core element in modern filtration technology. Cooling systems must be power-full and controllable in fine increments. Depending on the requirements, VOMAT offers different systems. The smaller VOMAT systems, including the very popular FA 120 to FA 240 series, have an optional slide - in cooling unit. This allows for easy serviceability on site. The condenser on these units is mounted in the hinged hood of the machine allowing for a compact footprint. The control accuracy is +/-0.2 K, while cooling capacity is 9 to 13 kW. If cooling of the axis drives, spindles and motors is required, modular units can be connected to the filter system. In addition, there are add-on units with condenser for external cooling or cold water-powered solutions with an external water circuit.
The new VOMAT KWS 250 is a modular and expandable chiller with an integrated frequency controlled coolant circulation pump and Eaton compact controls. The cooling capacity is 250 kW for brine operation and it has a control accuracy of +/-1.0 K. No buffer tank is required for the unit and it is also suitable for outdoor installation such as in an industrial park. The dimensions are 2200 x 1900 x 2700 mm (W x L x H). Strobel said, "The VOMAT KWS 250 scores particularly well with its performance and energy efficiency. The chiller consumes up to 62 percent less energy than similar conventional systems."
Special solutions are also possible for recycling. In addition to manual bag disposal, VOMAT offers the fully automatic, patented sedimentator. The residual moisture content of the sludge is only five to 10 percent. The disposal takes place time-saving and user-friendly directly into the transport container of the recycling company.
Strobel said: "VOMAT Filtration systems can be equipped with almost all OEM tool machine interfaces. This allows them to be optimally integrated into the customer work flow. Thanks to our WIFI based remote control system, VOMAT systems can be controlled by remote service personal."