February 01, 2014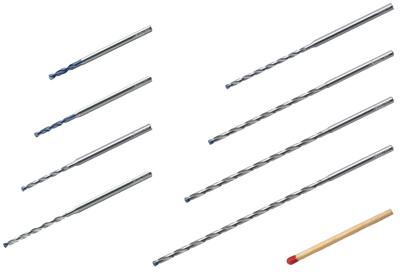 In response to increased industry demands for precision, Walter USA LLC has expanded its high-performance line of Titex X-treme DM micro drills with the addition of products in the 16xD and 30xD drilling depth ranges. In addition, diameters of 2 to 2.95mm are now available for all drilling depths in these product ranges. Formerly the 2mm diameter was available only in sizes smaller than 25xD.
Whether automotive, aerospace, die and mold, or general metalworking, industries increasingly require a multitude of drilled holes with diameters smaller than 3mm. Sometimes drilling depths of up to and over 30xD are required. Typical applications include drilled holes for lubrication, cooling, venting, and nozzle bores.
Walter has reportedly succeeded in bringing the superior performance of its Titex X-treme DM family into the micro drill range due to a series of features that are typically not found in small diameter drills. First, these new Walter micro drills have internal cooling, just like the larger members of the X-treme family. Furthermore, their optimized point geometry with special cutting edge preparation and precisely dimensioned flute geometry ensure superior chip formation and, therefore, very high process reliability. The polished surface of the flutes also supports excellent chip evacuation.
The X-treme DM micro drills have a wide field of application, including the P, K, M and N ISO material groups. Importantly, the new DM micro drills allow the drilling process to take place without pecking. Pecking would cause additional load change and make the process unsafe.
Related Glossary Terms
edge preparation


edge preparation

Conditioning of the cutting edge, such as a honing or chamfering, to make it stronger and less susceptible to chipping. A chamfer is a bevel on the tool's cutting edge; the angle is measured from the cutting face downward and generally varies from 25° to 45°. Honing is the process of rounding or blunting the cutting edge with abrasives, either manually or mechanically.

flutes


flutes

Grooves and spaces in the body of a tool that permit chip removal from, and cutting-fluid application to, the point of cut.

metalworking


metalworking

Any manufacturing process in which metal is processed or machined such that the workpiece is given a new shape. Broadly defined, the term includes processes such as design and layout, heat-treating, material handling and inspection.