November 17, 2022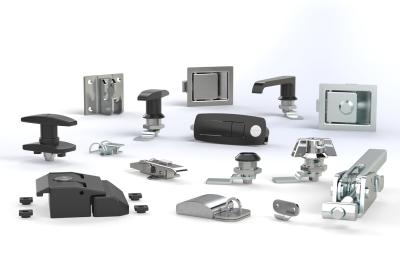 WDS Components is now offering a complete range of parts for enclosures and cabinets. Aimed at c and end users, the range includes locks, latches, and catches, as well as hinges and handles, plus a range of accessories and peripheral parts. The UK standard parts manufacturer and supplier can also offer specification advice and provide customisation for enclosure OEMs.
The consolidated range of enclosure parts includes a wide variety of locks, latches, and catches to suit all requirements. Quarter turn locks are frequently specified for enclosures thanks to their ease of operation while ensuring secure door closure. The device comprises a cylindrical body with a cam lever arm that secures in just a quarter of a turn. Simple operation makes them ideal for fast access to machine panels or general purpose lockers.
The range is available in plastic, zinc die cast with a chrome plating for additional durability, as well as strong and corrosion resistant stainless steel. WDS provides the quarter turn locks in a variety of styles, including a square, triangle, or pin turn key, or a hand-held wing knob. For extra protection, a lockable key variant is also available and the highest enclosure security requirements can be met with unique key designs. Locking plates can also be added to an enclosure door, ideal if an additional padlock is required, and WDS provides durable plates in a variety of designs.
To secure doors of various weights and provide a variety of installation and opening/closing styles, WDS supplies a wide range of hinges in materials from plastic to stainless steel. In addition to standard surface-mount designs, specialist hinges are available depending on form and function enclosure requirements.
Lift-off hinges enable fast and simple door removal to enhance enclosure access. Alternatively, locking hinges can be opened to the desired angle and secured in place with a key, ideal to prevent unwanted closure such as during maintenance. Similarly, torque hinges enable adjustment over resistance of door closure, useful to prevent slamming. To enhance security and remove obstructions, WDS also provides concealed hinges that enable tamper-proof installation. Meanwhile, piano hinges are available in lengths up to 1.8m and create a gap-free joint that prevents trapping of fingers or cables and hardware.
To enable easy enclosure opening for larger doors, WDS provides the traditional bow handle, as well as bridge pulls and ledge pull handles. For smaller enclosures and lightweight doors, the range also includes compact one-finger handles. WDS' offering spans a range of sizes and hole centres, and well as a variety of styles and materials, such as aluminium, stainless steel, and plastic.
Ensuring a complete enclosure parts service, WDS also provides peripheral parts and accessories including enclosure gaskets, with rubber-edged trims helping to prevent ingress while providing additional door sealing. To stabilise enclosures, WDS also provides a range of levelling feet and castor wheels, and a variety of fasteners are also offered, such as catches, screws, and collar bolts.
WDS' Technical Support team can provide OEMs with component advice to closely meet their specification, and a custom design service is also available. For end users requiring replacement parts, the Customer Services team can help match existing specifications.