May 12,2012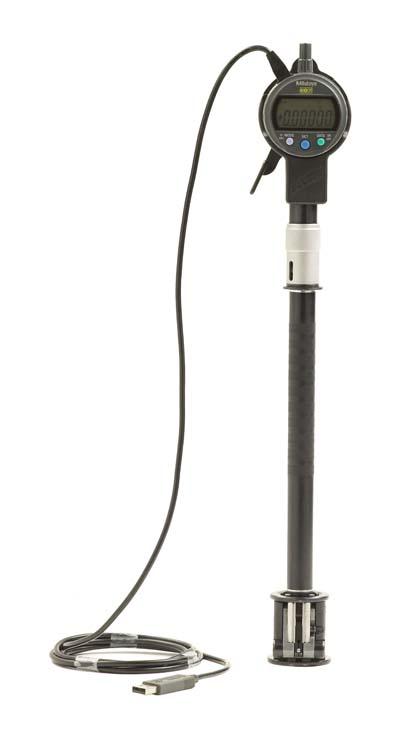 Sunnen Products Co. announces the availability of optional, large-readout electronic indicators on its entire range of dial bore gages. Highly visible in the shop environment and a quick reference for multi-tasking operators, the new electronic dial bore gages feature precision indicators with 6-digit LCD readouts, 11-mm character height and three large buttons for easy operation. Capable of checking bore sizes from .054" (1.37mm) to 12" (300mm) and bore lengths up to 24" (600mm), Sunnen's electronic bore gages allow users to set upper and lower tolerance limits for GO/+-NG judgments, which are then displayed in full-size characters. Standard analog indicator-equipped gages read out in tenths (0.002mm), models with five-tenths (0.010mm) read outs are also available. Operators can easily toggle between inches and metric measurement read outs.
The electronic indicator dial bore gages, accurate to +/-0.00012" (+/-0.003mm) with 0.00005" (0.001mm) resolution, provide the ability to perform scaling calculations, judge tolerance, hold data and perform general comparison measurements. Internal calculations using a simple [F(x)=Ax)] formula are also possible. The gages are ideal for shops honing production runs of parts that require SPC data at multiple points in the bore. Data output via SPC cable enables direct transfer of bore measurements to a computer for use with SPC software.
The indicator face displays the spindle's absolute position via an Absolute linear encoder capable of relocating the origin, even after the power is turned off, for quick-start, multi-point measurement. The positive/negative count resulting from the spindle's up-and-down movement can be toggled, and the indicator face can be rotated 330 degrees, for easy reading at virtually any angle. Gage centralizers are adjustable to ensure proper centralization over the entire diameter range, resulting in accurate centering action, even if the gage is tilted off the bore axis. A right angle attachment is available for conditions where the gage is difficult to read or total gage height is an issue. Blind hole probes and probe extensions are also available. Probe extensions are 2.5" (63.5mm) long, and up to three extensions can be assembled together.
Most models feature all-carbide gaging points for applications where exposure to extreme wear conditions, like heavy production, rough workpieces or abrasive materials, is a factor. All dial bore gages are designed for the machining environment with a dust/water protection level of IP42 or IP53. Battery life, under normal use, is approximately 5000 hours.