July 01, 2011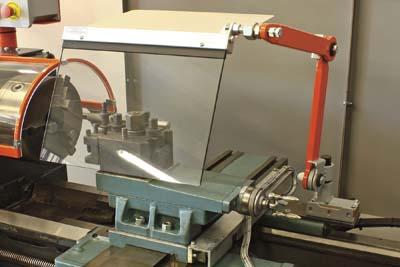 Rockford Systems Inc. has introduced a new line of electrically interlocked heavy-duty crosslide/carriage travel shields. The use of these electrically interlocked crosslide/carriage travel shields goes beyond OSHA and ANSI safety requirements.
When the shield is swung out of position, the positive contacts on the microswitch open, sending a stop signal to the machine control. The safety microswitch electrical wires are furnished with a protective sheath and connect to the safety circuit of the machine that switches off the control to the movement of the chuck. All safety microswitches are mounted in an enclosed housing with a rating of IP 67 and a mechanical life of one million switching cycles.
The shields consist of a high impact-resistant, transparent polycarbonate front panel with an aluminum top plate that provides operator protection from flying chips and coolant. The adjustable shield attaches to tubular-steel arms that provide additional adjustability at the joint and steel base, and can be swung out of the way for easy access to the workpiece and tooling. The steel base which houses the safety microswitch mounts to the backside of the horizontal carriage of the machine.
Related Glossary Terms
chuck


chuck

Workholding device that affixes to a mill, lathe or drill-press spindle. It holds a tool or workpiece by one end, allowing it to be rotated. May also be fitted to the machine table to hold a workpiece. Two or more adjustable jaws actually hold the tool or part. May be actuated manually, pneumatically, hydraulically or electrically. See collet.

coolant


coolant

Fluid that reduces temperature buildup at the tool/workpiece interface during machining. Normally takes the form of a liquid such as soluble or chemical mixtures (semisynthetic, synthetic) but can be pressurized air or other gas. Because of water's ability to absorb great quantities of heat, it is widely used as a coolant and vehicle for various cutting compounds, with the water-to-compound ratio varying with the machining task. See cutting fluid; semisynthetic cutting fluid; soluble-oil cutting fluid; synthetic cutting fluid.