June 02,2021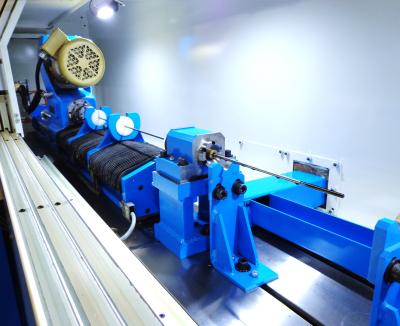 The Eldorado M75-48-R1 is a single-spindle reaming machine designed for lower-volume gun barrel manufacturers. Our standard DeHoff reaming machine has two spindles, automated barrel loading, and automated tool handling. The new Eldorado reaming machine has only a single spindle and requires manual loading of the barrels and reamer tooling. This makes the Eldorado machine smaller and less expensive, which makes it perfect for low-volume barrel manufacturers.
The Eldorado M75-48-R1 has a maximum reaming diameter of 0.75 inches (19 mm) and a maximum barrel length of 36 inches (914 mm). The machine features hardened steel box ways and hand-scraped spindle housings (versus linear guide ways and milled surfaces). This results in superior vibration damping, extended tool life, and improved surface finish.
Related Glossary Terms
reamer


reamer

Rotating cutting tool used to enlarge a drilled hole to size. Normally removes only a small amount of stock. The workpiece supports the multiple-edge cutting tool. Also for contouring an existing hole.