June 01,2015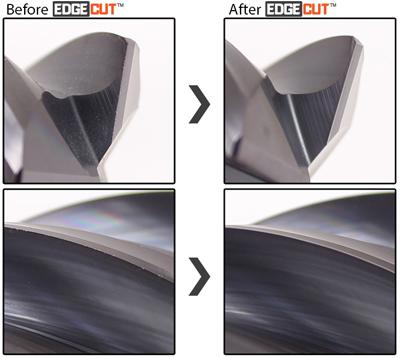 Precision Cutting Tools Inc. has implemented EdgeCut in the production of its cutting tools, to improve cutter performance. Edge Cut is a manufacturing process that consists of adding a controlled radius on the cutting tool's edge (also known as honing/edge preparation). This process is said to create an even and stronger cutting edge which reduces the risk of edge chipping/cracking and dissipates the stress and force focus.
In addition, this method also increases coating adhesion, providing efficient chip evacuation and wear resistance. As a result, tools with EdgeCut have shown significant improvement in performance compared to tools without any edge preparation; they achieve considerably higher speeds and feeds and longer tool life, the company says.
Related Glossary Terms
wear resistance


wear resistance

Ability of the tool to withstand stresses that cause it to wear during cutting; an attribute linked to alloy composition, base material, thermal conditions, type of tooling and operation and other variables.