November 14, 2017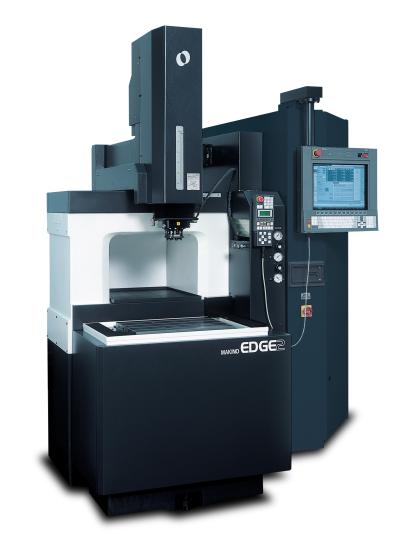 Makino Inc. offers EDGE-Series machines, the EDGE2 (pictured) and EDGE3 , to the U.S. manufacturing market. Built for general precision machining applications, both EDMs provide accurate and reliable performance for standard die/mold components or contract manufacturing with a space-saving design for shop floors of any size.
"We've seen a reemerging demand for general-purpose sinker EDMs in today's market," said Brian Pfluger, EDM product line manager at Makino. "There are many shops that require advanced sinker EDM operations that are having difficulty in achieving productivity targets due to a workforce skills gap. Therefore, we wanted to support manufacturers with user-friendly sinker EDMs that provide versatile, high-performance machining with dependable reliability at a competitive value."
The EDGE-Series sinker EDMs feature an integral rise-and-fall work tank designed with excellent unobstructed access to the work zone for setups, which greatly improves visibility to monitor the machining processes. The machines include an eight-station automatic tool-changer (ATC) to extend unattended operation, and fully support robotic automation for greater unattended operations. The machines are equipped with critical safety features, such as flame sensor and fire extinguisher systems, that are integrated and monitored by the machine control. The footprint and work-tank specifications for the EDGE2 and EDGE3 are highlighted below.
EDGE2
Footprint: 1,750mm x 1,770mm x 2,300mm (69" x 70" x 91", respectively)
Work Tank: (L x W x H) 650mm x 450mm x 300mm (25.6" x 17.7" x 11.8", respectively)
EDGE3
Footprint: 1,950mm x 2,100mm x 2,300mm (77" x 83" x 92", respectively)
Work Tank: 800mm x 550mm x 350mm (31.5" x 21.7" x 13.8", respectively)
The EDGE2 and EDGE3 are configured with a variety of productive, adaptive EDM technologies to efficiently handle virtually any task while reducing machining time:
SuperSpark4 dynamically optimizes the power discharge levels and jump cycles to reduce machining time up to 50 percent.
Intelligent Expert System (IES) has advanced adaptive power to automatically stabilize EDM processes and enhance accuracy.
MGH6 Control features a 15-inch touch-screen control system and simplified programming using the Makino Program Generator (MPG) function.
Related Glossary Terms
electrical-discharge machining ( EDM)


electrical-discharge machining ( EDM)

Process that vaporizes conductive materials by controlled application of pulsed electrical current that flows between a workpiece and electrode (tool) in a dielectric fluid. Permits machining shapes to tight accuracies without the internal stresses conventional machining often generates. Useful in diemaking.

precision machining ( precision measurement)


precision machining ( precision measurement)

Machining and measuring to exacting standards. Four basic considerations are: dimensions, or geometrical characteristics such as lengths, angles and diameters of which the sizes are numerically specified; limits, or the maximum and minimum sizes permissible for a specified dimension; tolerances, or the total permissible variations in size; and allowances, or the prescribed differences in dimensions between mating parts.