March 02, 2020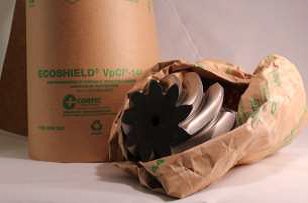 EcoShield VpCI-144 is one of the latest additions to Cortec's growing portfolio of over 30 USDA-certified biobased products. EcoShield VpCI-144 can now display a unique USDA label showing it contains 69% USDA-certified biobased content. This is the portion of the product that comes from a renewable source, such as plant, animal, marine or forestry feedstocks.
EcoShield VpCI-144 also surpasses the minimum biobased content needed to meet mandatory purchasing requirements for federal agencies and their contractors buying corrosion preventatives under the USDA BioPreferred Program.
"We applaud Cortec Corp. for earning the USDA-certified biobased product label," said Kate Lewis, USDA BioPreferred Program. "Products from Cortec Corp. are contributing to an ever-expanding marketplace that adds value to renewable agriculture commodities, creates jobs in rural communities and decreases our reliance on petroleum."

EcoShield VpCI-144 is a premium moisture barrier VCI (vapor corrosion inhibitor) paper, providing protection against rust and corrosion on ferrous and nonferrous metals. The product also provides resistance to grease and oil. It can be used to wrap or interleave metal products for storage or shipment. Typical applications include protection of
• Coils, wire reels, plate and bar
• Metal forgings and die castings
• Springs, bearings, fasteners, tubes, pipes
• Finished engines, machinery, equipment, tools, hardware, appliances and motors
• Electrical and electronic components, controls and PCBs
In addition to its biobased content, EcoShield VpCI-144 demonstrates a high level of environmental responsibility due to its water-based barrier coating. Historically, polyethylene and wax coatings have been used to seal porous paper to provide a moisture barrier and/or moisture-vapor barrier. When coated this way the resulting paper product poses an environmental challenge because it cannot be recycled through normal channels. EcoShield VpCI-144 is a competitive environmentally friendly alternative because it is fully recyclable/repulpable.