September 05, 2019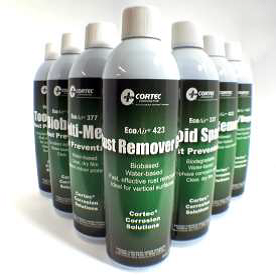 Cortec Corp. has introduced its newly revamped EcoAir line of surface prep and rust prevention products packaged in eco-friendly bag-on-valve spray cans. These cans are powered by air rather than traditional flammable propellants and contain some of Cortec's most popular corrosion solutions.
The EcoAir line includes options for biobased rust removal, water-based void space protection and water-based cleaning/degreasing with flash rust protection. Of special note is the newest addition to the collection—EcoAir Tool & Die—a rust preventative specifically designed for easier application and cleanup in the tool and die industry.
The fresh new EcoAir package design and labeling make it straightforward and easy for users to know how each product is applied and whether it is intended to "clean," "protect" and/or "preserve" metals. The portable cans are convenient for maintenance personnel, production employees or preservation specialists to use for a variety of cleanup, rust removal, and rust prevention activities around the shop, on the production floor or in remote preservation conditions where electrical-powered application equipment may not be an option.
The newly redesigned EcoAir line includes the following:
• EcoAir BioCorr Biobased Rust Preventative
• EcoAir 325 Tool & Die Rust Preventative
• EcoAir 337 Void Space Rust Preventative
• EcoAir 377 Multi-Metal Rust Preventative
• EcoAir 414 Cleaner/Degreaser
• EcoAir 422 Rust Remover
• EcoAir 423 Rust Remover (gel for vertical surfaces)
These products offer a variety of user-friendly benefits on top of being portable and easy to apply. For instance, EcoAir Tool & Die Rust Preventative, completely new to the EcoAir line this year, is an option for the tool and die industry. EcoAir Tool & Die is easy to spray on for protection of expensive molds. Unlike other rust preventatives that workers must clean off with solvents, EcoAir Tool & Die does not need to be removed before the mold is used.
EcoAir BioCorr and EcoAir 377 are two other rust preventatives that offer excellent advantages over traditional oil-based and greasy rust preventatives. These two EcoAir products provide biobased and/or water-based rust prevention by leaving an unnoticeable dry protective film on metal surfaces. The two rust preventatives are easy to remove if necessary and promote a cleaner work area overall.
For void spaces where it is often challenging to protect hard to reach metal surfaces, EcoAir 337 Void Space Rust Preventative can be fogged inside before shutting the enclosure. Vapor-phase corrosion inhibitors will diffuse throughout the space and form a protective molecular layer on the metal surfaces. This is an easy way to protect intricate equipment internals or add a quick protective spray to a crate full of metal parts.
With Cortec's EcoAir 422 and 423 Rust Removers, workers have two bio-based options for cleaning rust off metal surfaces. Both allow rust removal in 15-30 minutes without the harshness of other chemicals on the market. After rust removal, or simply during routine maintenance, EcoAir 414 Cleaner/Degreaser is easy to spray on for a quick surface rinse that includes flash rust protection. The EcoAir line provides many great alternatives to traditional MRO products and rust preventatives with its user-friendly and environmental advantages.
Related Glossary Terms
flash


flash

Thin web or film of metal on a casting that occurs at die partings and around air vents and movable cores. This excess metal is due to necessary working and operating clearances in a die. Flash also is the excess material squeezed out of the cavity as a compression mold closes or as pressure is applied to the cavity.